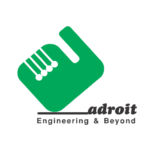 Adroit Control Engineers Pvt. Ltd, one of the leading engineering companies, serves its customers to use electrical power effectively and increase industrial productivity through automation in a sustainable way. Mr. Dayanand Arya & Mr. Rajesh Gupta, Directors and Co-Founders of the company share their vision about the future of education and how their products and solutions are contributing in improving the quality of Indian education system.
1. How do you see yourself contributing to the overall betterment of education as a process?
With culminated expertise and industrial experience, we play a major role to foster industry relevance in technical education. Adroit along with its technological and knowledge partners is a potent force in lending balance to a swiftly shifting educational scenario in India. We will certainly be a value proposition for technical education vertical market.
2. How do you feel is the global acceptance of your product among Educators?
We represent a wide range of customized as well as standard products, programs pertaining to different branches of Engineering and technical vocational education.
This is what prominent Industry experts and Educators have to say about Adroit's business vertical dedicated to technical education and products.
Mr. Anup Wadhwa – Director, Automation Industry Association.
"Adroit has co-created with our engineering team to establish a set of automation related lab equipment which is brand-agnostic. We are now able to deliver an integrated, multi-technology course more effectively to our partner colleges.
Professor Ashiv Shah – Head, AKGEC- TIFAC CORE
"I wish all success to AIA for Pan India Implementation of Campus Connect Program and Adroit for making this dream come true by very effective implementation through the development of state of Art training kits.
3. What according to you is the future of education in the coming years?
We as a company believe that Education in literal terms should be an enlightening experience. This experience becomes worthwhile only if we provide knowledge and skills that are learner-centric, motivational, relevant, contemporary, innovative, and technology-based and demand driven.
4. Which core segments of Education would you like to focus in the near future?
Being a manufacturer of Electrical Control Systems and an Industrial Automation System Integrator we are focusing on following segments of Engineering and Vocational Courses:
Electrical Engineering
Industrial Automation
Instrumentation & Control Engineering
Mechatronics Engineering
5. Share a case study where your product/technology/solution/resource has brought about a change in the classroom/school/institute.
Centre of Excellence for Integrated Automation: AKGEC – AIA Centre of Excellence for Integrated Automation
"A group of students have under gone training on integrated automation under Campus Connect Program.  During the program integrated automation training kits – system Integrated by Adroit played a major role in understanding and concept building of Automation during the program. And it was found that the program has imparted adequate knowledge on integrated automation and prepared the trainee to fulfill industry requirements through the expertise they gained during the training.
6. Name top Institutions where you have installed your products.
1. VESIT, Mumbai
2. AKGEC, Ghaziabad
3. St. Joseph Industrial Training Institute, Mumbai
4. IIT Delhi
5. Banasthali University, Rajasthan
6. NTTF (Nettur Technical Training Foundation)
7. National Institute of Technical teachers training & Research.
8. Dr. B R Ambedkar NIT, Jalandhar
9. NIT Kurukshetra
10. Kurukshetra University
11. IIT Ropar
12. Central Scientific Instruments Organization, Chandigarh
13. Sant Longowal Institute of Engineering and Technology
14. SRM University