Ms. Lata Singh
Meraviglia EQ Academy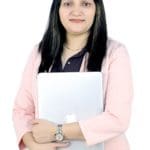 Lata Singh is the founder-director of Meraviglia EQ Academy that provides a Social Emotional Learning program to Schools. Lata along with her team of Kids Life Coaches is working constantly on the importance of providing emotional intelligence skills to students, teachers and parents. In the last 6 months, they have reached more than 5000 kids through their EQ workshop, sessions and activities.
She believes that along with regular studies we must prepare our kids for facing tough situations and that can be achieved by regular eq workshops and social-emotional learning skills.
Currently, she is running a Social Emotional Learning pilot project in some of the renowned schools of Delhi NCR to see how effective and important to have it in every school.
Lata has 18 years of IT experience and she is an Internationally Certified Life Coach, Emotional Intelligence Assessor and Trainer, and NLP practitioner. She wants to do a lot for kids and is continuously working towards achieving her Noble goals.
She has created her team of kud life coaches by Training and guiding them to serve society.