VOL – 4 | ISSUE – 5 | MARCH 2020
NOTE FROM THE CHIEF EDITOR
---
"It was the best of times, it was the worst of times, it was the age of wisdom, it was the age of foolishness, it was the epoch of belief, it was the epoch of incredulity, it was the season of light, it was the season of darkness, it was the spring of hope, it was the winter of despair"
(Charles Dickens, A tale of two cities,1859)
161 years later the COVID 19 has brought the same situation upon us. World over academic institutions have been at the forefront of the battle. Select Indian schools are also getting on the bandwagon. IIT Kanpur is bringing up a new prototype for ventilators, Shoolini is researching on new kinds of sanitisers, Amrita Vishwavidyalaya is trying hard to promote e-learning by their product A-VIEW, but the list is still restrictive.
And as members of the academic community, it is imperative that we lead from the front. New forms of connecting with your stakeholders, passing on the right message through your students, teaching empathy and of course making them learn online and offline must be our focus. This is also the time to get your teachers to learn and master the art of communicating through online mediums and the administration to get to use technology to minimize personal contact across activities from admission to evaluation. Research and development on drugs, on new forms of mechanical and electronic equipment, testing kits, the need for great products that are India specific would be the order of the day. Covid – 19 will fundamentally alter the way the we live, learn and educate.
IDA would be your partner in connecting stakeholders, effecting partnerships, applauding achievements and sharing success stories.
Come, be a pioneer in this new way of educating!
– B Mahesh Sarma
In the Spotlight

Homeschooling in times of a Pandemic

As the economies are crashing, education sector has seen a new emerging trend of online learning and homeschooling has become a new norm.

EDUCATORS'
CORNER
LOW EMPLOYABLE SKILLS: A SOUTH ASIAN TRAGEDY

The Indian educational scenario looks thriving with approximately 904 universities and more than 47,000 colleges. However, the real problem lies in the fact
+ READ MORE

IS ONLINE LEARNING THE FUTURE OF EDUCATION?

Technology has become an integral part of our education system with the introduction of new-age digital platforms enhancing the academic landscape in India
+ READ MORE

IN THE AGE OF EDUTAINMENT

The nature of entertainment has changed drastically and dramatically in the past two decades given the exponential technological growth. Thirty years ago
+ READ MORE

PREVENTING TEACHER BURNOUT

Have you ever wished to spy the mind of a teacher and figure out what drives them to join the profession? We have looked into that and have found that
+ READ MORE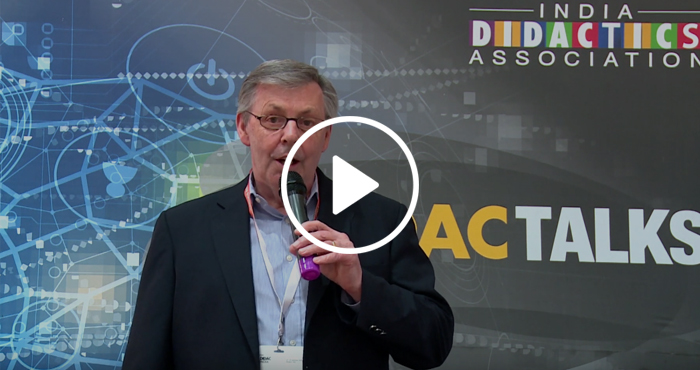 DIDAC
TALKS
Mr. Nick Hutton, Regional Director, Asia, D2L
talks about Bright Space, learning management system
INDUSTRY
NEWS
SCHOOL EDUCATION

NIOS Exams Postponed Over Coronavirus Outbreak
NIOS has postponed all ongoing examinations
scheduled till March 31 in the wake…Read More

Teachers Shouldn't Be Put At Risk: Online Petition Gathers Support
The petition asked the Health Ministry and Human Resource Development Ministry to issue… Read More
HIGHER EDUCATION

Maharashtra State govt circular raises questions over autonomy of universities
This is the first time that the government has sent
such a letter to the universities… Read More

COVID-19: UGC Tells Universities To Postpone Exams, Suspend Evaluation Work
The University Grants Commission (UGC) directed all universities and affiliated colleges on… Read More
RANKINGS/AWARDS
DRDO, IIT Delhi Receive Young Women Scientists Award For Excellence In Social Tech
The award was given by President Ram Nath Kovind at the National Science Day (NSD) function held at Vigyan Bhawan on 28 February for research achievements and for application of technology for the… Read More
Skills/ Innovation/ Entrepreneurship

11-year-old Kolkata boy creates app to
donate unused medicines
Eleven-year-old Yuvraj Shah from Kolkata has created
the Medmaze App, which helps people to… Read More

IIT Delhi researchers develop affordable test for Covid-19
According to the team, considering the scale of the ongoing coronavirus pandemic… Read More
POLICIES

No Privatisation Of Primary Education:
Centre In Parliament
In its three -year action plan, the government think
tank NITI Aayog had suggested to… Read More

Delhi To Have Own State Education Board
In the budget presented by Deputy Chief Minister Manish Sisodia in a one-day session of the Delhi Assembly, the government has… Read More
TECHNOLOGY

IIT Madras Researchers Design Drones To Counter 'Rogue Drones
This system can be of invaluable assistance to law enforcement agencies, security… Read More

Indian edtech industry to grow at an incredible rate in 2020
Amidst all these developments, here are some trends that signify how the edtech industry… Read More

Online Learning: SWAYAM Courses
Available Free Of Cost For Students
SWAYAM, Indian government's own MOOC platform,
has over 1900 courses in different… Read More

Government's e-Learning Platforms Available For School Students
HRD Minister Ramesh Pokhriyal 'Nishank' asked students to continue their learning by making… Read More
GLOBAL
NEWS
SCHOOL EDUCATION

Exam cancellations to spark 'almighty scramble' in UK admissions
Fallout from virus measures could hit poorest
students hardest or be basis for advent…Read More

Coronavirus Takes Toll on K-12 and Higher Education
Education officials are increasingly being forced to consider canceling classes and closing… Read More

Coronavirus forces Japan schools to
grapple with online education
With 16 million children stuck at home, classrooms
are scrambling to digitize…Read More

Due to the coronavirus pandemic, half of the world's student population in not able to attend schools and universities (UNESCO)
Half of world's student population missing… Read More
HIGHER EDUCATION

Australian university orders return to face-to-face teaching amid coronavirus pandemic
The University of the Sunshine Coast directive to scrap plans for online teaching prompts an… Read More

Coronavirus outbreak: Top US universities to have online classes
In New York, Columbia, New York University and Fordham have all announced that… Read More

The true value of higher education
A university education is a public good and not a plaything for the exchequer, writes… Read More

Australian universities bite the bullet on online delivery
Go remote now or later? That's the… Read More
Skills/ Innovation/ Entrepreneurship

America Already Had a Skills Crisis. Then the Coronavirus Hit
Now all of the nation's resources and energy are focused on an immediate, full-throttle response… Read More

This 17-year-old student created the world's biggest Coronavirus tracking website
Seventeen-year-old Avi Schiffmann had created the world's biggest Coronavirus… Read More
TECHNOLOGY

These Education Companies Are Offering
Free Subscriptions to Parents During School Closures
You don't need to be a teacher or an…. Read More

Google and YouTube launch new resources to help teachers and families educate students at home
Teach from Home and Learn@Home are… Read More
Join our
SOCIAL
channels to
voice your opinion!
LET'S CONNECT
To stay connected with the latest in Education & Skills Sector and be a part of formulation and dialogue on the norms & policies you must connect with us on our Social Channels.
| | | |
| --- | --- | --- |
| DIDAC INDIA 2020 | | WORLD OF EDUCATORS |
| | | |
EdInsights is an IDA Initiative.
To contribute original articles, blogs, opinions, suggestions on Education and Skills,
please write to [email protected]
| | | |
| --- | --- | --- |
| 422 – 423, DLF Tower A, Jasola District Centre​, New Delhi – 110025 | +91-11-46535555 | |
© 2020. India Didactics Association. All Rights Reserved.
Disclaimer : The above material is the combination of content curated by IDA team and syndicated links. These external links are being provided for informational purposes only and lead directly to the source page. Although every effort is made to ensure the external links are accurate and up- to-date, we bear no responsibility for the maintenance and authenticity of the content of these pages or for that of subsequent links.