Ms. Preetha Abraham
Principal, Greenfield Chennai International School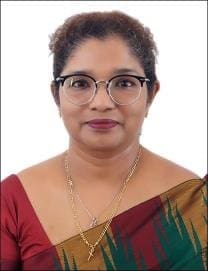 Creativity is as important as literacy.
-Ken Robinson
We all agree that education can make us a good person and make society a better place but it can only happen if the process itself is effective; meaning the educational systems need to be efficient and more happening in order to be promoting the essence of creativity. Educationists are accepting the fact that if education is for a lifetime, then life should be read and understood, instead of books. Hence, many curriculum now have begun life skill teaching but what matters is the way it is to be imposed unto students to apply in their daily lives. Education is unarguably an essential ingredient for social and personal development. Hence, schools have taken a paradigm shift in their mode of education disbursement especially focusing towards acquisition of the important 21st century skills viz; learning and innovation skills, digital literacy skills and career and life skills.
We need to understand that education is the best legacy that we can leave for the generations coming and we need to impart progressive education, which will equip students with the most important skills like critical thinking, problem solving, creativity, collaboration and communication skills ensuring that their learning is complete. Critical thinkers are lifelong learners who learn to adapt an attitudinal change from "I can do it" to "we can do it" thus evolving them to become leaders with articulate proficiency and collaboration fluency. They develop a curiosity, which also encourages reflection thus keeping the flame of new learning kindled in them for a lifetime. Recent studies indicate that the improvised curriculum, which is imparted through the online school, indeed does take measures towards information literacy and ICT skills but inculcating behavioural management, flexibility and adaptability in the curriculum will most certainly have a manifold affect on tomorrow's society thus triumphantly fulfilling an institution's corporate responsibility.
Like Robert Greene had emphasised, the future belongs to those who learn more skills and manage to combine them in creative ways. Schools need to align with the fact that education is only as good as its very implementation and designing such an educational system is as important as the presence of skills in the curriculum. In the marathon of life, a school teaches to run thus transforming a child to become a student because only a school can instill the qualities of perseverance, determination, handwork, ambition, discipline and skills. Thus by adding it all up, such a great individual is introduced into the society and the secreting radiant to this being the most important skill of all the 'Learning skill'.
Learning a skill is the most important skill as it is the very basis of acquiring all skills. Learning skills will not only include responsibility, organisation, independent work, collaboration, initiative and self regulation but also study skills like imbibing new information, retaining the information through effective reading, concentration techniques and efficient note taking.
Many teachers now contemplate that the pandemic and online schooling are degrading and adversely affecting the potentiality of learning skills. Hence, the teachers must essentially work harder to first rekindle the learning skill and then move to educate once the school reopens. Teachers must work towards improving the thought process of a student since we all agree that only proper learning can improve the ability to question, and the ability to question inspires intellectual thought and enables students to engage in meaningful interactions and this, in turn, harbours collaboration leading to ingenious creativity and we are aware that every great finding and invention has had creativity and inquisitiveness at its roots. Hence, it must be undoubtedly accepted that creativity is as vital as education because only great individuals can comprise to become a great society thus making our Indian nation an epitome of educated civilisation.
"If education does not solve a problem, then it is a problem and if the educated do not solve the problems, then they are the problem"
-Ernest Agyeamang Yeboah