Quoting Dr. Sarvepalli Radhakrishnan, "You cannot make or build the nation by just bricks; you have to establish the minds of young people and then alone can the nation building take place." – the President of India, Shri Pranab Mukherjee said that teachers have a crucial social responsibility during the formative years of the children.
Shri Pranab Mukherjee presented National Awards to meritorious teachers from across the country at a function held at Vigyan Bhavan in New Delhi today (September 5, 2016) on the occasion of Teachers' Day. The President congratulated the distinguished teachers who had been bestowed with the prestigious National Teachers Awards 2015 for their excellence and performance and the manner in which they had instilled skills in their students and made them ready to face the challenges of life. He conveyed his 'Guru Pranam' to all teachers on Teachers' Day.
The President said that the Guru-Shishya Parampara is integral to our ancient civilization. In ancient days, the Guru's parting advice to students was that they should be truthful, virtuous and not deviate from their conviction. He said that unless we build a knowledge society, we cannot find our rightful place in the comity of nations.
Shri Prakash Javadekar, The Union Human Resource Development Minister said that education inculcates values of life to us. He asked awardee teachers to share their innovative experiments in spreading education by reaching the unreached. He congratulated and called upon teachers to be role models for younger generation. He emphasised upon importance of teachers' training. Union Minister also noted that there is an urgent need to fill the vacancies of teachers throughout the country and this will be taken up with the State Governments. Citing an example from his own experience of a school from a village adopted under Saansad Adarsh Gram Yojana, he said that with awareness, motivation and resolve to improve quality of education, wonderful results can be achieved. He also called for community participation in schools for improving quality of education and required infrastructure.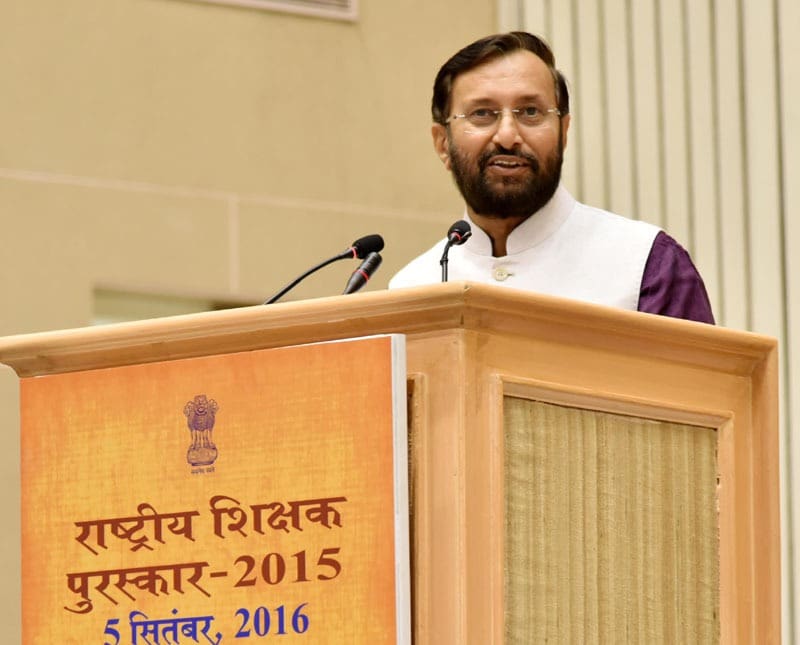 Minister of State (HRD) Shri Upendra Kushwaha, welcomed all the dignitaries present on the occasion and he complimented and congratulated the awardee teachers. Minister of State, (HRD), Dr. Mahendra Nath Pandey said that the teacher plays a pivotal role in removing darkness of ignorance in our life and imparts light of knowledge.
The Award to Teachers carries a Silver Medal, Certificate and Rs 50,000 as award money. 346 teachers were awarded the National Award 2015. These awards were instituted in 1958. From mid sixties onwards, 5th of September has come to be the date of investiture to accord public recognition to meritorious teachers working in elementary and secondary schools.
Dr. S.C. Khuntia, Secretary, Department of School Education and Literacy gave vote of thanks. Shri V. S. Oberoi, Secretary, Department of Higher Education was also present on the occasion among other dignitaries, teachers and other senior officials of the Ministry of HRD.