18th September, 2017, Mumbai
The Asian Summit on Education & Skills 2017, organised by India Didactics Association, commenced at the JW Marriott Mumbai Sahar today with the ASES Forum Director,  Mr Dominic Savage setting the tone for the summit. The first session began with Mr. Andreas Schleicher, Director of Education & Skills – OECD joining the forum by video conference.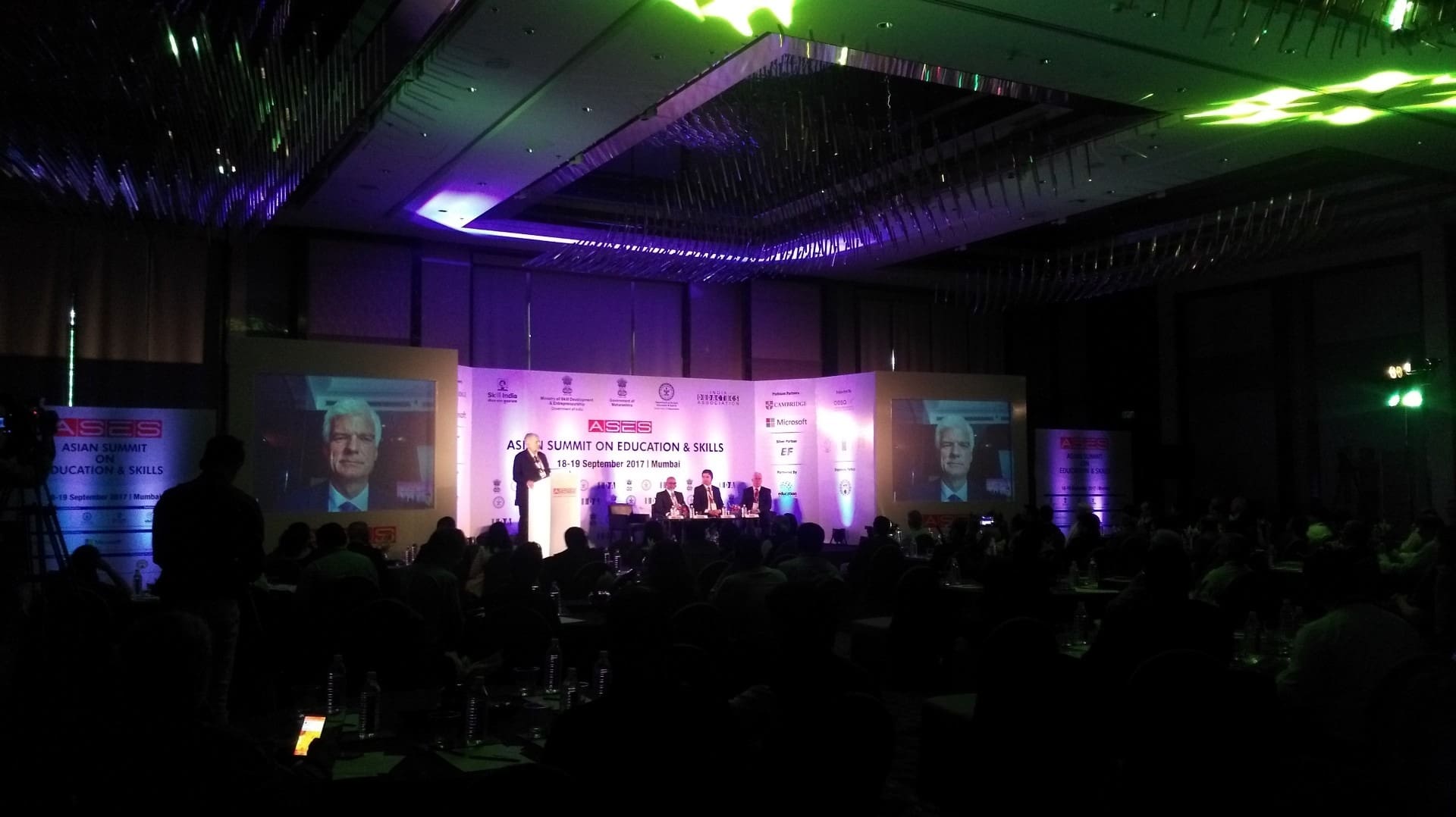 The opening session set the context for the summit's theme "Preparing Students for Success: Learning, Life, Entrepreneurship and Work", outlining challenges and the changes underway for society and economics, and developing education's response. The presenters explored current and forthcoming challenges and policies and reflected on implications, outlook and practice in education in their region and country.
The sessions that followed deliberated on topics of "Curriculum for the next 10 years: competencies, knowledge and success and preparing for learning, entrepreneurship and work", and "Teacher and Student Development for our current and future contexts including implications of the 4th Industrial Revolution."
Speakers for the plenary sessions on the first day of the Summit included Mr Andreas Schleicher, Director of Education and Skills, OECD, Mr Rahil Mohammad Formuly, Deputy Minister for Technical, Vocational Education and Training, Government of Afghanistan, Dr Abdul Muhsin Mohamed, Deputy Minister for Education, Government of Republic of Maldives, Mr Jim Wynn, CEO Imagine Education, Egypt's Teachers First Programme, Mr Dominic Savage, Forum Director, ASES and Forum Director, Education World Forum as Moderator, Mr Sheshnath Adhikari, State Minister for Education, Government of Nepal, Dr Mmanstesta Marope, Director UNESCO IBE, Mrs Anju Sharma, I.A.S. Principal Secretary for Higher & Technical Education, Government of Gujarat, Mr Geoff Stead, Director of Digital, Cambridge English, Mr Gavin Dykes, Programme Director, ASES and Programme Director, Education World Forum, Mr Pratik Mehta, Director of Education, Microsoft India, Ms Alison Bellwood, Director, World's Largest Lesson, Dr Phouvieng Phoumilay, Director for Technical and Vocational Education, Ministry of Education and Sports, Government of Lao PDR, Ms Sashwati Banerjee, Managing Director, Sesame Workshop, India, Mr Clement Chauvet, Chief Skill and Business Development, UNDP, and Ms Caroline Wright, Executive Director, BESA
One of the unique features of ASES, a pedigree of the Education World Forum, London, were the policy exchanges – three concurrent sessions that allowed closer discussion of key areas of interest. The topics that were covered at the policy exchanges included "Developing policy for teaching and teacher innovation", "Nurturing Competency and Assessment Development" and "Building Partnerships for Education". Various key education leaders sat as panelists and participants during the exchanges.
Day 1 of the summit concluded with in-depth networking amongst delegates and the official reception & dinner at the hotel.
Day 2 of the summit continues at the NESCO's Bombay Convention & Exhibition Centre, Goregaon East, linking with Didac India, the largest educational resources exhibition in the Asia Pacific region.