By Toppan Printing Co. Ltd.
Japan Educational Business Div. 
Education is one of the significant sectors to witness revolutionary changes in recent times. With the development of technologies, things are becoming more and more digitalized in today's world. The education system in India's metro and other cities has also become modernized to a great extent, making way for digitalization.
As we sail through the technological environment, Technology is a medium to achieve authentic learning outcomes and make students with curriculum of subjects.
Heightened focus on mathematics education is leading to long anticipated agreement on standards and practices, and increased efforts in schools to help our students excel. The digital revolution is transitioning our schools from paper-rich to technology-and-media-rich learning environments. In the midst of these changes, a big advantage arises: Technology in schools can accelerate the momentum in mathematics education. On other hand, technology can help students visualize and comprehend mathematics, while their teachers gain deep insights into student's cognition and share their growth with a web-connected community.
Blended learning is an important movement in the evolution of classroom structures and digitally-enabled teaching environments. For years, teachers have been sending students to computer labs, using laptop carts, or working with a bank of computers in the back of the room. Today, the careful attention placed upon blended learning implementation provides an opportunity to be more deliberate in using integrated technology to achieve heightened educational objectives.
As we know Digital Education is the panacea for this anathema of education all over the globe. It is a blessing for developing countries which chronically suffer from ailments of access and affordability.
Primarily Digital Education has 3 components:
• The contents
• The technology platform
• The delivery infrastructure
Identifying the need to groom young children in their formative years, especially in mathematics, Toppan's education division has developed a web based platform YARU-KEY to learn and teach mathematics at the primary level. It aims to contribute actively to bring up students who have an ability to survive with this world that are constantly changing.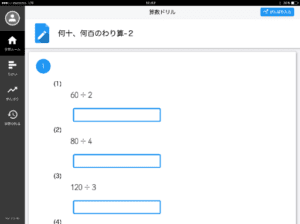 Yaru Key is a digital worksheet education for schools which is in accordance with the textbook used at primary sections. It supports program for use on tablet terminals. As through tradition method students do not get answer of wrong difficulties questions instantly. It increases the red pen burden work for teacher. While, Yaru Key points out the stumbling mistakes of students and gives the correct answer of that respective difficulties instantaneously. This helps out students where they are lacking in. It also gives an opportunity to teachers to think over the ability of the student instead of red pen burden work.