Mrs. Bandan Preet Mahajan
Genius Edutorial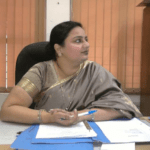 KNOWLEDGE AND BEYOND!!! 
My journey in the field of education began as a kid. Ever since I was a kid, I was surrounded by students who were taught by my mother who ran a coaching centre not just to supplement the family income but because she loved being in the company of kids, had a passion for teaching and at the same time wanted to be a constant learner herself. I was always and still am in awe of my father who was a University Topper (a Gold Medalist in Engineering). His Mathematical skills, English vocabulary and immaculate hand writing, everything about him inspired me. With this kind of family background, soon my books became my best friends. Whenever my mother was approached by parents of a student who was weak in studies, she would accept the situation as a challenge with great enthusiasm and when due to her relentless efforts, the child would start doing well in studies , her joy knew no bounds. This , I think is a trait I have inherited from my mother as an educator. I firmly believe in the aphorism, " There are no problem students, just problem teachers." After having finished my schooling from Holy Child School and graduation in Economics from Miranda House, DU, I got married and had a daughter within a year.
Life was never smooth sailing post marriage and after my share of discord with my in-laws, I decided to pursue my studies further. This was at a time when due to the traumatic circumstances I was going through , I went into acute depression . However , with constant support and encouragement from my parents and husband, I studied hard and secured a rank of 115 in the B.Ed Entrance Exam and went ahead to pursue a regular B.Ed course. I went on to join a reputed public school in West Delhi in 2007 and at the same time pursued my M.A. in Economics from IGNOU. During my tenure at the school that I joined, I took several initiatives as a teacher, facilitator, guide and mentor to my students. These efforts were lauded by the management of the school and within six months of my recruitment, I was promoted to the post of the Middle Wing Incharge of that school. Obviously, with position comes a lot of responsibility. I was to look into a lot of academic and administrative work of the school but still, I never gave up on my first love…… teaching kids. I would , on my own account, squeeze out time from my hectic schedule to teach different classes on different days and check their learning outcomes. This activity gave me quite a sense of satisfaction. 
While in school, I took up several initiatives for the betterment of the kids. Right from organising plantation drives to organising rallies on various issues of public interest (sanitation, go green etc.), from hosting various literary competitions to indulging students in several newspaper based activities, from organising sports activities to counselling them when needed, from organising Faculty Development Programmes (to train teachers so that they could handle student issues better) to ensuring that the Student Body Council was actually put to productive use…….. I initiated all such endeavours with the school management to ensure holistic development of students. With the students, I even composed the school song 'Aria' and actually went on stage to sing it loud with the students for the first time. Such was the kind of association I shared with my students. I felt equally ebullient whether it was a tiny tot who would excitedly come to show what he/she had learnt in cookery class that day or a senior wing student who would come to thank me for encouraging him/her to participate in a particular competition. I would often help students in preparing for various competitions at various levels and acted as the venue incharge for various competitions held in our school. I was always ready to take on any challenge that came my way…….thanks to my personal problems that I had suffered from earlier…..which by now had transformed me into a better, stronger and brighter person. As they say, challenges are blessings and opportunities in disguise. Hence, I discharged my duties in different areas of school activity with the same fervour be it acting in the capacity of the organising secretary of the National Judo Championship or as the NIOS Centre Superintendent or as the teacher co-ordinator for Times NIE or HT Pace etc. For rendering a new dimension to education, in whatever capacity I could, I was lauded with several awards and certificates…..Rajiv Gandhi Excellence in Education Award, appreciation souvenirs from KCS Educate, Career Launcher, The Times of India, The Hindustan Times, to name a few.
After 8 long years of service and having performed various roles in different capacities [Assistant Professor, Visiting Faculty at several institutes, PGT(Economics)], I decided to call it quits when my daughter was in class 9. It was then that Genius Edutorial came into being. At GE, we endeavour to not only impart knowledge to students but also inculcate good values in them so that they go on to become morally upright , spiritually edified, intellectually sound and mentally healthy citizens in the future. Besides indulging in academic activities, GE also takes up various other activities like plantation drives, exhibition of Summer Camp activities, free seminars and workshops on Career management, Time management and how to beat exam stress, no cracker campaign, donation drives …..the list is exhaustive. It was during this time that I pursued a lot of freelance activities like editing and proof reading of books, helping people with their Ph.D thesis, scripting lectures, conducting kids' activities and did a lot of social work as well. A few years after the inception of GE, new dimensions were added to it in the form of Genius ECPD (English Conversation and Personality Development ) Modules and Genius Creativity Hub to cater to not only the academic but affective and behavioural domains of personality of a student as well. As for me, not only do I intend to make my students learn new things all the time, I too continue to attend conferences, seminars and workshops to keep honing my skills because a good teacher has to be a good learner all the way to make the teaching- learning all the more effective and productive. DIDAC is one such platform for all the educators of the country wherein there is not only exchange of ideas and information but one also gets to upgrade one's skills with changing times.