Ms. Neha Khanvani
Popkorn Kids, Ahmedabad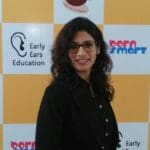 There is nothing more beautiful than smiling children. Feel blessed to have opportunities to spread joy and happiness in their life. 
I have started my journey from a small town of Gujarat as an assistant pre-primary teacher. I have played vital roles in different well known organizations such as teacher, coordinator, Headmistress and Principal. Presently I am working as a Content and Training Head of a Publication House. I am also associated with Early Childhood Association India and working as Territory Head for Surat (Gujarat). During these years I have been fortunate to touch the lives of many children.
I firmly believe that there are many ways where we can be the Change Agents and play different roles which affect children. As an educator I believe in every child and respect his/her uniqueness. My ultimate goal is to connect with maximum educators and parents in order to lead a happy & healthy childhood for children.