Mrs. Shalini Mishra
Sweet Angels International School,
Kanpur, Uttar Pradesh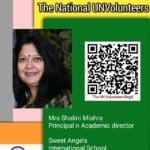 I started my journey as an educator in 1995 in a school as a primary teacher. My personal experience was not so positive towards the quality of education we were giving to future generations. There was almost no space for innovation, creativity and value education was not getting due weight age.
Fortunately, I got an appointment letter from the Army Public School & I joined there but the condition of the local private school was still in my mind. Parents who have sound financial backgrounds were sending their children to branded schools but those who were u able to bear finance were not getting quality. After 15 years I resigned from the post of headmistress and started working with the children of rural backgrounds. I tried to convert concepts of science into stories to make studies more interesting. As a master trainer, I'm conducting workshops in schools that too without charging a single penny.
Now after a long struggle, I have started my own school Sweet Angels where the angel element of human behavior is getting strength through education. Affordable fee structures with scholarship schemes are there to break the financial barriers.
Friends Bless me more meaningful life …
It's not the end of my story number of pages I have to write to make me a true educationist.