Ms. Greshma Momaya
Trio World School, Bangalore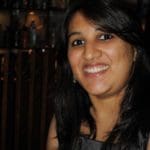 Greshma believes that – "For any child, life remains a sea full of rich experiences just waiting to be explored." As an educator, she would like to become that sea for them. She feels that if a child can't learn the way we teach, maybe we should teach the way they learn.
Her education and career have been dedicated to developing young minds. A Bachelor Degree in Human Development followed by a post-graduate Diploma in School Counselling from the University of Mumbai, and a Certification in Early Year Foundation Stage from the UK empower her to create an eclectic curriculum for nurturing young minds.
She started her career as a Kindergarten teacher and taught at the primary level for 7 years, then, as Preschool Coordinator & Operations Head, and now as Head of Tots. She has been involved in designing learning environments, scripting curriculum and training teachers in preschool. From 2007, she is set on a journey for creating stimulating Early Learning Environments. 
She enjoys creating vibrant learning environments that are happy and warm. In her words, "I strive to ensure that the curriculum is both enriching and stimulating for young children. I believe a preschool should be wonderful safe heaven for children – a home away from home where learning is effortless and organic".
She is on a mission of happy children, happy parenting and happy teaching. To take her mission forward she conducts various workshops for parents and teachers. She conducts Facebook live sessions on various issues and concerns pertaining to children.