Ms. Nisha Jain Grover
Vatsalya Legacy Pvt. Ltd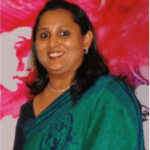 With an academic & professional background steeped in Educational Psychology; Nisha Jain Grover has amassed many years of invaluable experience in the realm of Special-Needs Methodology & Teaching. She combines her scholastic accomplishments including degrees in English, Psychology, Career Guidance & Education with a wealth of real-life teaching & counseling to present a formidable force of intellectual & practical knowhow. Her insights are the culmination of deep erudite pursuits, married to pragmatic, innovative action-plans. As such, Nisha has been Nationally acknowledged for her pathbreaking Counseling work.
Nisha is the proud recipient of the most 'INNOVATIVE EDUCATOR'. Amongst her roster of well-regarded honors is the 'OUTSTANDING ACHIEVEMENT AWARD 2009' as well as the 'STEPPING AHEAD TROPHY'. The Doctorate-pursuing Nisha has also lent her expertise as the resource person for the Education and Management Department at IIT Delhi and IIT Madras, while also pioneering MIND MAPPING in Rajasthan. Of Nisha's myriad professional endeavors; she is excited by creating high-energy, intense workshops and training programs. With a recent WOTFA 2016 Felicitation; Nisha employs her breadth of serious interests in Neuro-Linguistics, Hypnotherapy and Counseling to outbound training, leadership development and remedial coaching; training more than 20,000 teachers, 500 doctors and a near-infinite number of disillusioned parents, seeking all manner of intervention. Other than catering to various schools , organisations, universities and professionals she is the consultant and resource person to the top 10 schools of our country, and is perennially hungry to help, grow, learn and innovate.
However, for Nisha, neither is it monetary gains, nor the glory of recognition that propels her; but rather overwhelmingly, the impact her work has had on countless young lives, that serves as her unending pool of drive & inspiration. In her own words "when I see a young learner break free from the shackles of a learning disorder, and open up to a world of limitless learning, the sense of satisfaction is simply unquantifiable. It is an absolute joy, for child, parent and I". Now, with Vatsalya Pre-School, Nisha is passionately enthused to put her enormous experience and winning results to practice in a school that is her OWN. Conceived, designed, developed with a singleminded focus – 'to liberate the young learner from any & all limitations by redefining pre-school education'. Not bound by any restrictions, at her own school, Nisha is able to espouse an open, imaginative & creative learning philosophy that is fun, sensitive, and global. Where each young learner is given the respect of individuality and provided with tailor-made tools and solutions to help his or her imaginations soar, forever