Dr. Stella Pandhare, Principal, The Millennium School, Bengaluru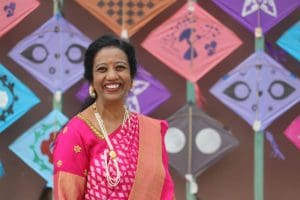 The Pandemic of Corona did bring things to a grinding halt all of a sudden with the PM announcing lock down to keep the citizens of the nation safe. A wise move indeed. However, all of us were left with the thought of what next. How do we beat this virus during the time of this crisis?
I do agree silence is gold. But, at times, when one has something very important to share with someone equally important, it isn't all that easy to maintain silence for too long.  So, the Educators at the Millennium School decided to break the 'deafening silence' and lead out students on an insightful journey even if it meant staying at home.
We have come a long way and the time elapsed has been filled with stirring moments always.  Seasons have turned around at their distinctive yet monotonous and pleasant pace. The world has witnessed paradigm ideological shifts through political fallouts, economic challenges, technological marvels and 'radical' movements, which will go down the annals of history. And history has always been scripted with indelible ink. Thus, dictating a scrupulous introspection of the present to stand testimony for the future. I too have taken recourse in the irrefutable fact that 'Time' has and will always remain the master and a measure of monumental growth, when history is being scripted.
We decided to capture important concepts through videos. Our facilitators took up the task of recording videos and sharing it with the students to help them stay connected with learning. We sent guidelines to parents and creative videos as references and helped them share their knowledge with their wards. Parents were encouraged to record videos of their wards participating in the activities prescribed by the school and the same is being posted on Facebook and Youtube. Flip classrooms, Video sessions, Creative worksheets and Zoom sessions are helping the teacher and the taught stay connected to teaching and learning.
We are creating videos on preparing teaching aids so that teachers can utilize this time to prepare required materials to aid their teaching. Classroom management teaching aids are also being taught so that facilitators can use them once school resumes
Time enough to learn from 'Time'. This has been a valuable learning. Passion too like success can never be a destination; it has and shall always remain a journey. So has been this passionate journey for me, as an Educator. The response of the School Facilitators, parents and children has been overwhelming, buttressing a conviction – a conviction that an entrenched passion and its creative outburst have revealed 'what lies beneath' the cloak of an educator.
The Educator in me is indebted to those of you, who were resolute to dig into the remotest ways possible to reach out to the kids through digital media and are finding ways to keep learning alive. To those of you who believe in transacting education at the 'click of a button', I acknowledge your painstaking efforts in going that extra mile to surf the enticing sections of the digital portal which has also given wings to an educator's dream. I can assure that even during the lock down day,  Education 'hidden' away from your 'reach', will reach out and touch you.