VOL – 4 | ISSUE – 10 | JUNE 2020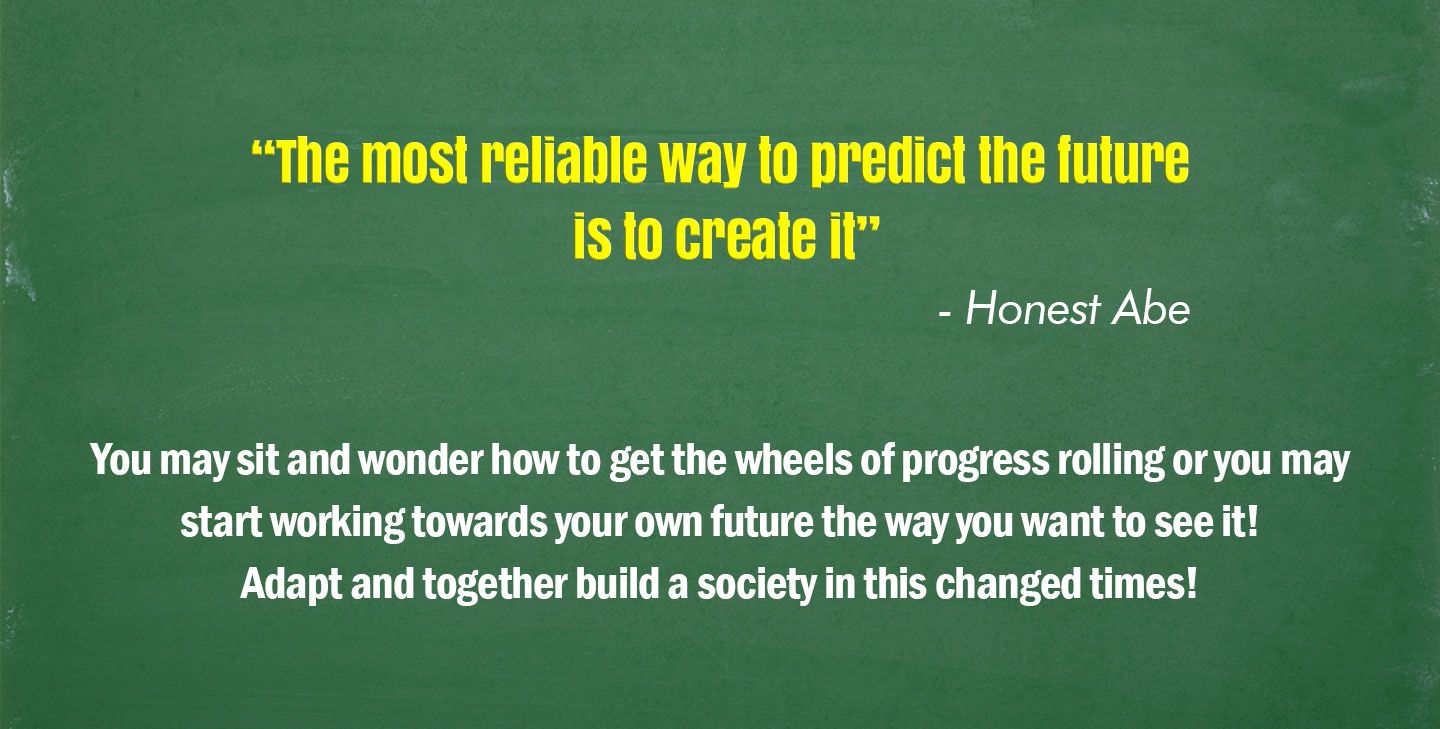 IN THE
SPOTLIGHT
Innovations that are truly driven towards providing the basic level of education to young minds in a beautiful organic way, where the nature hand holds the learners and nurturing the nature becomes a routine. Education can reach a new all-inclusive level with a hybrid functioning of nature and technology, together.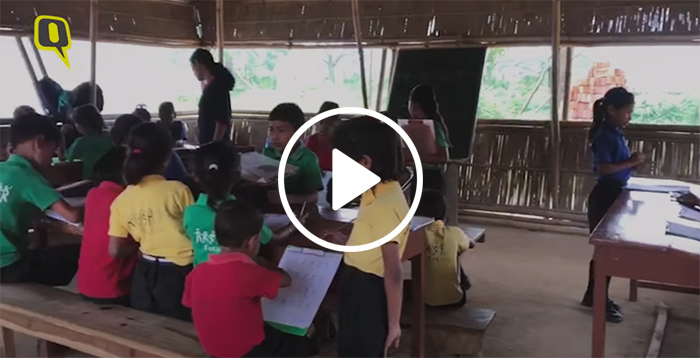 THE AKSHAR SCHOOL, PAMOHI, ASSAM
Do write to us if you would like to cover such innovations driven towards the betterment of our education sector at [email protected]
EDUCATORS'
GALLERY
Listen to eminent education leaders sharing their valuable inputs and experiences on how the education sector can cope with the changing times amidst the outbreak of #Covid-19
Dr. Babysam Saamuel, Chairman, Indian Schools in Oman, considers the current situation as a blessing in disguise, as we now have enough time to think and focus on our future.

Dr. Indrajit Bhattacharya, Director, NABET, QCI, gives out an important message during these unprecedented times, on behalf of India Didactics Association. He suggests a few vital measures that can be taken during these times.

Ms. Vibha Khosla, Principal, Shri Ram Global School, Delhi, suggests that during this pandemic when we are confined within the four walls of our home, it is important for us to emerge as learned and dynamic winners.

Ms. Pratima Sinha, CEO, DSR Educational Society, begins by thanking India Didactics Association for this initiative and getting all the educators together. Provides insights on the steps taken by their school during this time.
A COVID-19 INITIATIVE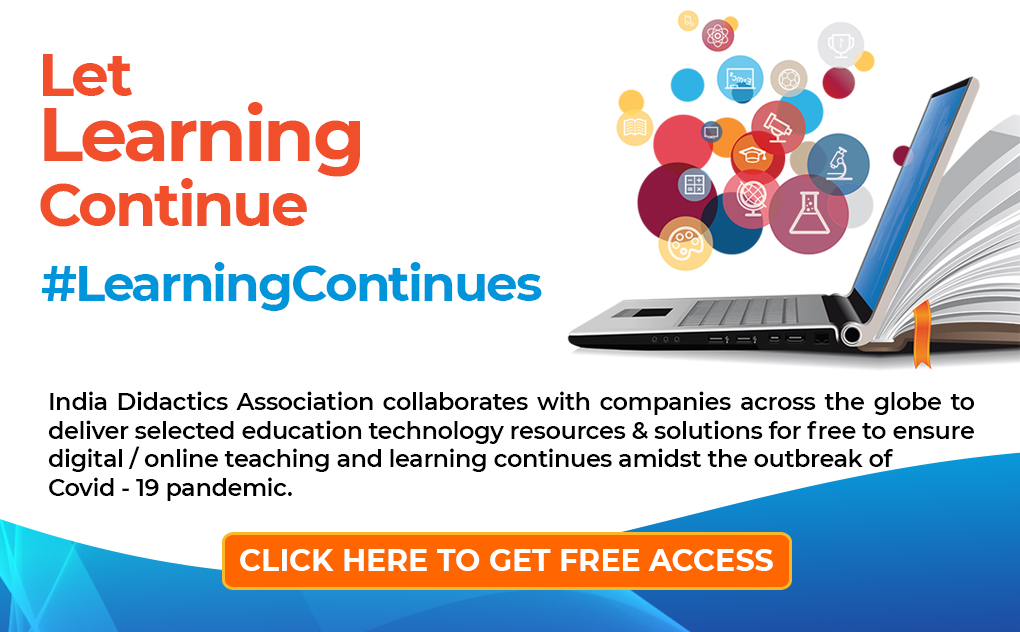 INDUSTRY
NEWS
Higher Education
Study shows how India's higher education enrollment can jump to 65% from 27%
Study says India should adopt Eligibility Enrollment Ratio instead of Gross Enrollment Ratio, stressing that the former is 'more realistic projection of college enrollment numbers'… Read More
LEARNING/TRAINING

NCERT and Rotary India digitally sign MoU for e-learning content telecast for class 1-12 over all NCERT TV channels in the presence of Union HRD Minister Shri Ramesh Pokhariyal 'Nishank'
To make e-learning more constructive, NCERT and Rotary India digitally signed MoU for e-learning…Read More

Union Minister for HRD Shri Ramesh Pokhriyal Nishank launches information booklet "Safe online learning in the times of COVID-19" to raise awareness
Union Minister for Human Resource Development Shri Ramesh Pokhriyal Nishank digitaly launched the information booklet titled "Safe online… Read More
TECHNOLOGY

Karnataka May Stop Online Classes Till 7th Grade
Karnataka online classes: Karnataka government said it has received suggestions from cabinet ministers to extend the decision to put on hold the online classes till seventh standard…Read More

As Covid spreads, India struggles to move teaching online
Development is coming mostly from centralised government platforms and private universities, but low internet penetration is just one of the hurdles faced by the country… Read More
ADMISSIONS/EXAMINATIONS

All Safety Measures Will Be Taken, CISCE Tells Court As Parents Protest Against July Exam
The Council for the Indian School Certificate Examinations (CISCE)'s decision to conduct ICSE exam in July has led to protests from parents. A parent has filed a plea in Bombay High Court seeking directions to the authorities to cancel the exam and declare results on the basis of gradation and by as…Read More

Mock Open Book Examination Will Not Address Students' Problems, Says Teachers Body
Delhi University Teachers' Association, or DUTA, appeals to the principals of colleges affiliated under the university to support the students and teachers in their demand for a more rational, academic and credible grading system… Read More
Admission to Assam edu institutes to be free in 2020-21 academic year
The Education Department will also pay ₹1,000 as monthly mess dues for those staying in hostels and an additional amount of ₹1,000 to all students for buying textbook… Read More
POLICY
Reduce school syllabus by 30%, reopen with precautions: Sisodia to HRD minister
Deputy Chief Minister Manish Sisodia pitched for a 30 per cent reduction in syllabus for all grades to make up for the loss caused by the COVID-19 pandemic… Read More
RANKINGS

Eight universities get ranked among best
100 in Asia
Eight Indian universities have found a place among the best 100 varsities in Asia, while some…Read More

Union HRD Minister virtually releases "India Rankings 2020" for Higher Educational Institutions in New Delhi today
Union Minister of Human Resource… Read More
IIT Madras Tops Higher Education Institute Rankings 2020; JNU Second Among Universities
Education Minister Ramesh Pokhriyal 'Nishank' announced NIRF Indian Rankings for Indian institutes today. The ranks which were scheduled to be announced in April were delayed due to Covid-19 crisis… Read More
GLOBAL
NEWS
HIGHER EDUCATION

International students 'could return in July': Morrison
Australia could open its doors to international students as early as next month, but such arrangements may be contingent…Read More

Asia 'may compete with UK' on international students post-Covid
UK could face different competition for overseas students in future, but expert questions assumption that TNE will benefit… Read More
LEARNING

Unequal access to remote schooling
amid COVID-19 threatens to deepen global learning crisis
As nearly 1.2 billion schoolchildren remain
affected by school closures…Read More

COVID-19 may push millions more children into child labour – ILO and UNICEF
Millions more children risk being pushed into child labour as a result of the… Read More
TECHNOLOGY

English regulator: 'universities must be clear about online delivery'
UUK also calls for OfS to clarify 'what constitutes a breach of registration conditions'… Read More

What Does Virtual Learning Mean For The Future Of Higher Education?
As an educator for U.C. Riverside, Michael P. Toothman, PMP, has worked in… Read More
SOCIAL
CONVERSATIONS
Join our
SOCIAL
channels to
voice your opinion!
LET'S CONNECT
To stay connected with the latest in Education & Skills Sector and be a part of formulation and dialogue on the norms & policies you must connect with us on our Social Channels.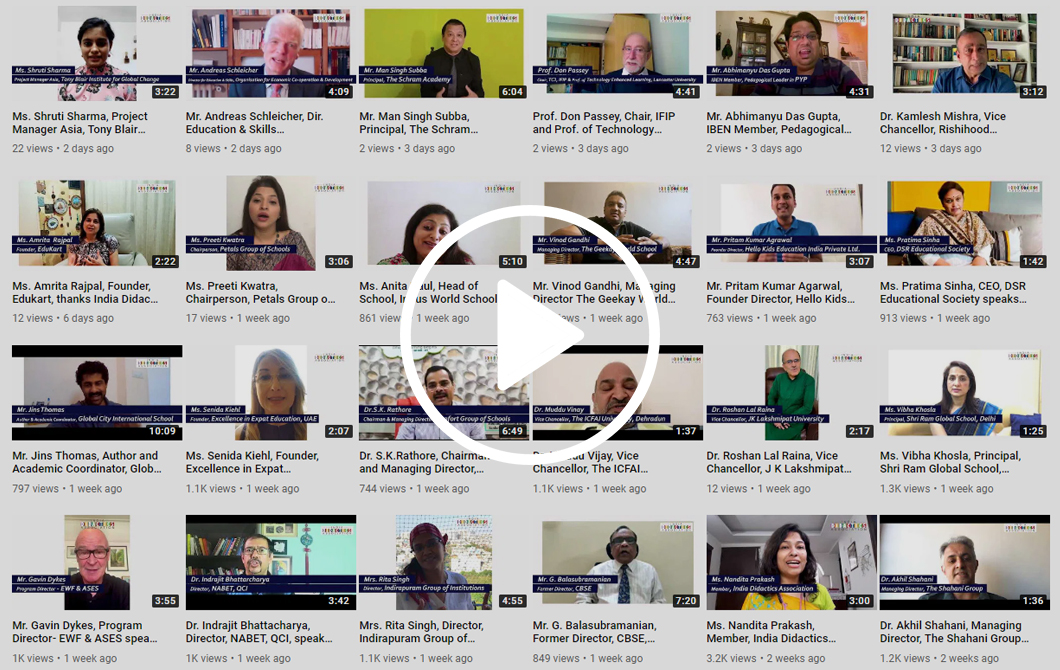 To explore and benefit from exclusive content on education and skills sector, subscribe to India Didactics Association Youtube channel.
DIDAC INDIA 2020

EdInsights is an IDA Initiative.
To contribute original articles, blogs, opinions, suggestions on Education and Skills,
please write to [email protected]
| | | |
| --- | --- | --- |
| 422 – 423, DLF Tower A, Jasola District Centre​, New Delhi – 110025 | +91-11-46535555 | |
© 2020. India Didactics Association. All Rights Reserved.
Disclaimer : The above material is the combination of content curated by IDA team and syndicated links. These external links are being provided for informational purposes only and lead directly to the source page. Although every effort is made to ensure the external links are accurate and up- to-date, we bear no responsibility for the maintenance and authenticity of the content of these pages or for that of subsequent links.