VOL – 4 | ISSUE – 11 | JUNE 2020
NOTE FROM THE CHIEF EDITOR
---
Greetings. The first phase of Unlock 1.0 is on all over the country. While Covid 19 cases are on the rise, there is also general awareness about the inevitability of living with the infection for quite some time. Some states have managed to ward off the impact better than others, and most metros continue to bear the brunt of the virus. But education is going nonstop. Despite the initial hiccups schools and colleges have risen to the challenge and are ensuring that learning never stops. As a Vice chancellor in one of the IDA round table aptly put it" Physical campus access is closed. The university is not". That probably is the spirit that will drive education forward. There are certain hurdles towards use of technology like the digital divide between the have and have nots remain a matter of concern.
Technology is here to stay and the adaptability of technology in education has become paramount for any educational institution to survive. With time, as we shall emerge from this Pandemic, the totally brick and mortar model will remain but with a co-existence of blended, online and digital form of learning and teaching. And that is the new world order IDA seeks to prepare for its stakeholders.
– B Mahesh Sarma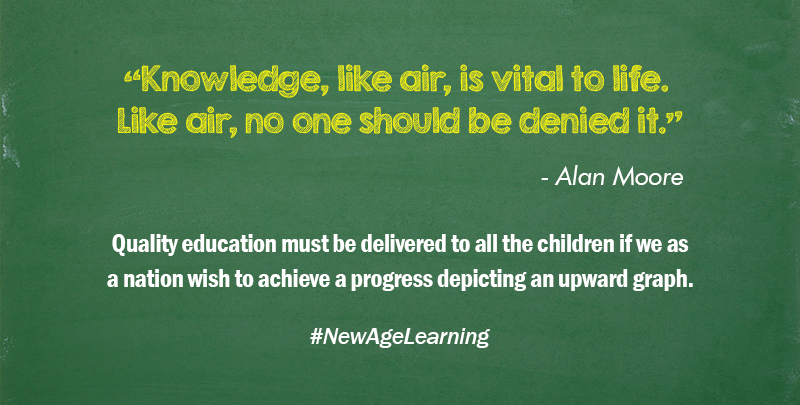 IN THE
SPOTLIGHT
A small effort will make a big difference and these examples prove the same! Know any dedicated educator or have a personal story to share? Send us a message and let the world know the importance of small initiatives!
EDUCATORS'
GALLERY
Listen to eminent education leaders sharing their valuable inputs and experiences on how the education sector can cope with the changing times amidst the outbreak of #Covid-19
Dr. Ashok S. Alur, Director, Centre of Excellence for FPOs, GOK, Bengaluru, speaks about how Covid 19 has impacted our lives and the various measures that need to be taken during the Pandemic.

Ms. Anju Arora Saxena, Head-Learning Support Department, Genesis Global School, talks about the relevance of online learning in the current scenario.

Dr. Swati Mujumdar, Pro Chancellor, Symbiosis University of Applied Sciences Indore, begins by thanking India Didactics Association for the opportunity to reach out her thoughts on the present situation.

Mr. Deepak Singi, Principal, Eicher School, speaks about the current situation that has affected the whole Education fraternity. Further suggests that Educators should make the most of this time by enhancing their soft skills and getting comfortable with online education platforms.
A COVID-19 INITIATIVE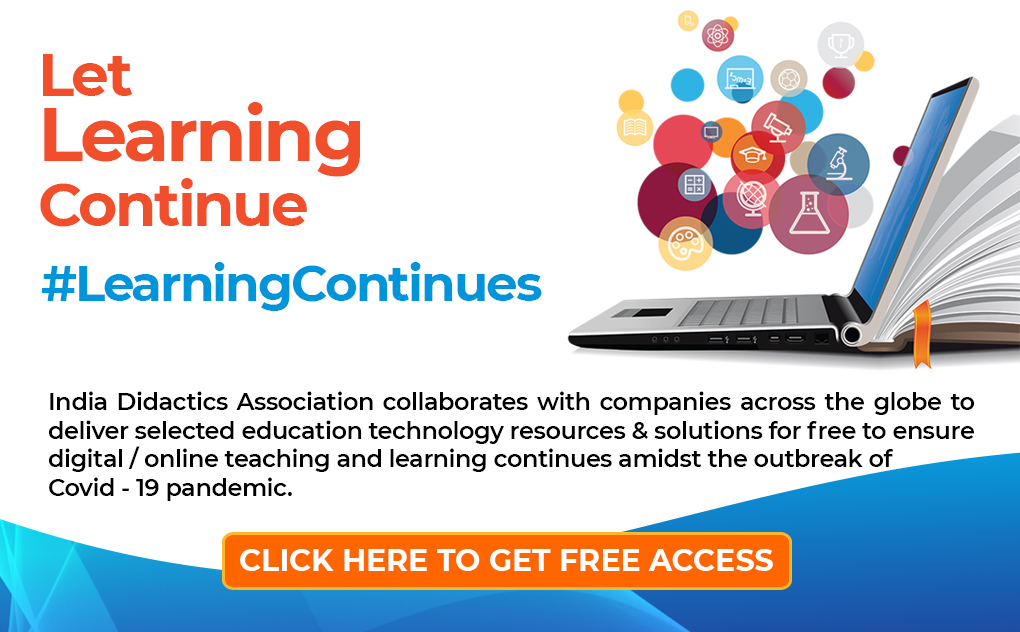 INDUSTRY
NEWS
HIGHER EDUCATION

HRD seeks Rs 60,900 crore for giving
laptops to college students
The plan for laptops comes at a time when the
education system is faced with the…Read More

HRD proposes to provide digital devices to 4 crore students in higher education in 5 years
The HRD Ministry made this projection in a presentation to the 15th Finance Commission Monday… Read More
LEARNING
The hope and hype driving online education
The boom in online education might yield profitability, rare in the start-up space. But for how long… Read More
TECHNOLOGY
How to maximize exam authenticity using remote proctoring?
Assessment companies are clubbing their remote proctoring solutions with robust AI-based… Read More
Admissions/Examinations

Postpone NEET 2020: Parents' Association writes to Ministry of Health
Stating that on an average more than 15,000 cases are being reported daily and a total number… Read More

CBSE Board Class 10th, 12th Exam 2020 HIGHLIGHTS: How marks to be calculated
Class 12 students will be evaluated on their performance in the last three school… Read More
POLICIES
World Bank approves $500 mn education project for six states
The project will be implemented through the flagship central scheme of Samagra Shiksha Abhiyan… Read More
GLOBAL
NEWS
LEARNING

Govts need to address inclusion challenges, edu sect setback by COVID-19: UNESCO
A UNESCO Report says, teachers belonging to
vulnerable groups concerned about…Read More

Germany: success of international students at heart of 2025 strategy
The academic success of international students will be level with the average success of… Read More
TECHNOLOGY
Drones Will Drop Library Books So Kids in Virginia Can Keep Reading, Thanks to Librarian's Bright Idea
The COVID-19 pandemic has closed schools and public libraries across the United States… Read More
SOCIAL
CONVERSATIONS
Join our
SOCIAL
channels to
voice your opinion!
LET'S CONNECT
To stay connected with the latest in Education & Skills Sector and be a part of formulation and dialogue on the norms & policies you must connect with us on our Social Channels.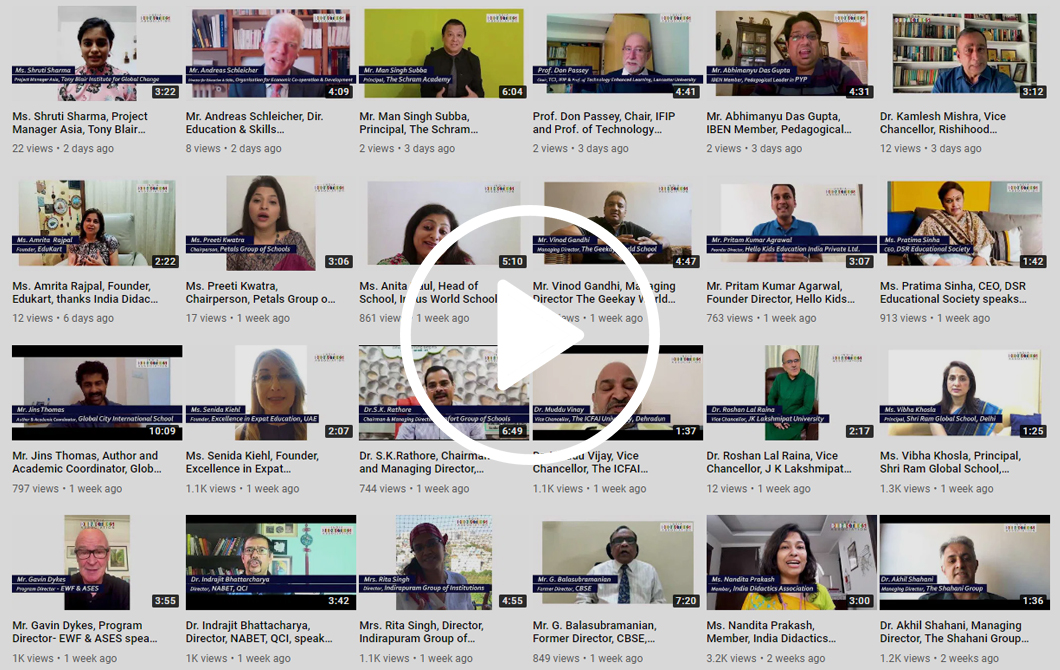 To explore and benefit from exclusive content on education and skills sector, subscribe to India Didactics Association Youtube channel.
DIDAC INDIA
2020

EdInsights is an IDA Initiative.
To contribute original articles, blogs, opinions, suggestions on Education and Skills,
please write to naveed@indiadidac.org
| | | |
| --- | --- | --- |
| 422 – 423, DLF Tower A, Jasola District Centre​, New Delhi – 110025 | +91-11-46535555 | ida@indiadidac.org |
© 2020. India Didactics Association. All Rights Reserved.
Disclaimer : The above material is the combination of content curated by IDA team and syndicated links. These external links are being provided for informational purposes only and lead directly to the source page. Although every effort is made to ensure the external links are accurate and up- to-date, we bear no responsibility for the maintenance and authenticity of the content of these pages or for that of subsequent links.