By Ms. Anjali Aggarwal
Principal
St. Mark's Sr. Sec. Public School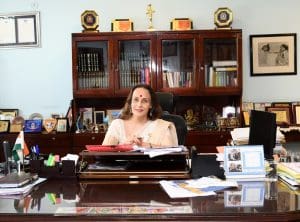 'Our education system is a mess! Our students can only parrot answers and can't think out of the box.' A common refrain one hears. Other equally strong voices say – 'It's Indian brains which run the Silicon Valley. The best doctors, bankers and CEOs of big companies worldwide are products of our education system.'
Considering both points of view, and also since I am a school Principal, I felt that some improvements were needed. So with pleasant anticipation, I read the recommendations of NEP-2020. I have, in this article, shared my opinion on the new NEP. I have, however, limited myself to the school level.
Universalization of education from preschool to secondary level, bringing the two crore out-of-school children back into the mainstream through an open schooling system.

This surely is a great initiative.
Current 10+2 system to be replaced by a new 5+3+3+4 curricular structure corresponding to ages 3-8, 8-11, 11-14 and 14-18 years respectively, which will bring the uncovered age group of 3-6 years under school curriculum.

On the face of it, it sounds good. But on closer examination, it will mean that though students will join at the age of three years, they would be older when they pass out. Is this a good thing?
Emphasis on foundational literacy and numeracy, with no rigid separation between academic streams, extracurriculars and vocational streams in schools.

The compartmentalization of students post Grade-10 into Arts, Science and Commerce will be blurred. Students will now be allowed to take up courses from varied streams depending on their interests. For example, a student interested in Physics can also study Economics and Political Science. This is one of the most lauded moves of NEP-2020. But will all schools be able to organize subjects like fine arts or music as proper subjects for Science and Commerce students, and similarly provide Biology, etc. to Arts students?
Teaching up to at least Grade-5 to be in mother tongue/regional language, with no specific language imposed on any student.

Learning through a familiar language is comfortable as comprehension is easier. But it's an established fact that children till the age of six find it easier to pick up languages and they can learn much more than at any other stage in their lives. There are children who can speak and understand Hindi, English and one more language by the age of five if they are exposed to them. So why the insistence on just mother tongue? Parents should have the privilege to select the medium of instruction since there are schools catering to every segment of society. India already faces a huge shortage of teachers leading to the skyrocketing teacher-to-student ratio in the country. On top of this, finding a teacher who is qualified to teach through a regional language will be a challenge in itself. Next comes the challenge of bringing out textbooks of Maths, Social Studies, etc. in each of the mother tongues which will be a herculean task in itself. I wonder if the fact that there are 22 languages active in India, instead of one national language as in other countries, has been considered.
Vocational education to start from Grade-6 with internships. A 10-day bagless period during which students will intern with local vocational experts, such as carpenters, gardeners, potters, artists, etc.

Bagless days will be filled with extra activities and will be something to look forward to. Sounds good. But pardon me for being a Doubting Thomas when I say that every school will face practical problems with internships for the vocational courses. Each school at most would be able to organize may be only one or two such internships.
Coding to be included in the curriculum from Grade-6.

This is in tune with the best global practices but though digitization is the talk of the town, the dire dearth of requisite infrastructure, especially among the rural and impoverished population, is a stark picture of the Indian reality.
School examinations to be held for Grades 3, 5 and 8.

It is not clear whether these are to be public/board examinations conducted by outside agencies, like the CBSE Till now, unconditional promotions till Grade-8 was the rule which automatically resulted in students not taking studies seriously. But now we may be subjecting Grades 3 & 5 to public exams. Is that right?
Grade-10 and Grade-12 board examinations to be made easier, to test core competencies rather than memorized facts.

This is good since it aims to decrease rote learning tendencies among students, as the ultimate aim of learning is not marks in examinations but an increase in creative acumen.
NEP includes a three-language policy, wherein all students will learn three languages in their school, with at least two of the three languages to be native to India.

English is the second most spoken language in India and is spoken nearly all over the world. But then this language is not native to India, and may not be introduced till Middle School. Schools will learn English as a language only from Grade-6 are bound to be at a serious disadvantage vis-à-vis their peers within and outside the country who learn this language from their formative years. Another result will be that chances of learning foreign languages in school, such as French, German, Japanese, etc., will be bleak.
Assessment of students shall be with a 360-degree holistic progress card, which will track students' progress for achieving learning outcomes.

This is indeed a welcome step.
School governance set to change, with a new accreditation framework and an independent authority to regulate both public and private schools.

A new accreditation framework? No comments till more are known about it.
NCERT to be given the job to design and develop the National Curricular and Pedagogical Framework for Early Childhood Care and Education (NCPFECCE).

The reform of the curricular structure requires a substantial infrastructural boost on the part of the government to fully equip schools logistically for fruitful implementation of the reform. Investment in the Education Sector is hence needed to be increased from the present level of 4.5% of our GDP.
Summing it up, I would say that NEP-2020 surely has some positives, and shows great promise.  It aims to facilitate an inclusive, participatory and holistic approach that is certainly child-friendly. Education of course is a state subject, and we have to wait and see the new NEP's implementation in different states. And it is only after its execution that we can judge its real effectiveness.