VOL – 4 | ISSUE – 17 | OCTOBER 2020
Celebrating Languages of The World!
Language allows us to share our ideas, thoughts and feelings with others. It has the power to build societies. Let us celebrate the various languages with IDA one-by-one.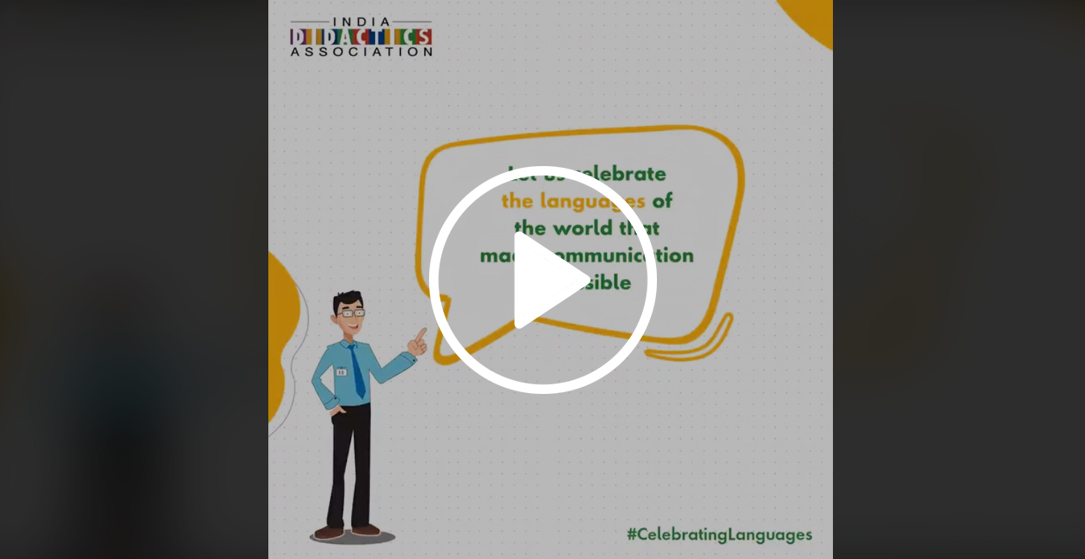 IN THE SPOTLIGHT
NEW UNIVERSITY FOR NEW EDUCATION

By Prof. Shrihari Prakash Honwad
President, Sir Padampat Singhania University

The New Education Policy of the Government of India envisages sweeping reformative changes for higher education…
EDUCATORS' CORNER
ASSESSMENT

By Ms. Gayathri Loganathan, Head of Primary School – Hiranandani Upscale School – Chennai

Assessment is a powerful tool. If used right, it can help any learner to move on the right path. The assessment enables…
+ READ MORE

CHANGING ROLE OF TEACHERS AS FACILITATORS

By Mrs. Sanjana Katoch, Principal – Suraj School
Bawal

A facilitator is a person who assists a group of people in grasping at their common targets and in achieving them without any…
+ READ MORE

THE TRANSFORMATION THAT SCHOOLS ARE GOING THROUGH

By Mr. Rajeev Pargaien, IBDP coordinator – Genesis Global School – Noida

In the beginning, technological penetration was very slow especially in government schools, though Private Schools…
+ READ MORE

YOU LOVE TO LEARN OR LEARN TO REACH SOMEWHERE WHAT'S YOUR STYLE

By Mrs. Sonal Ahuja, Educational Alchemist – Founder, House Of Learning

Learning as a psychological activity is something truly difficult to get a handle on. We know very little about the process…
+ READ MORE
INDUSTRY NEWS
HIGHER EDUCATION

Delhi Government adds 1,330 new seats to 9 courses at IP University
Delhi Government has added 1,330 new seats for nine existing courses at Guru Gobind Singh Indraprastha… Read More

UP launches Higher Education Digital library
Students enrolled in higher education institutions in any part of the state or country will have access to audio, video lectures and best study material… Read More
K-12 EDUCATION
India Ranks 6th Most Positive About Teachers in 35-Country Survey
India ranks among the world's top 10 countries when it comes to valuing its teaching workforce, according to a… Read More
SKILL DEVELOPMENT

Skills development ministry launches guidelines
for awarding bodies and assessment under NCVET
"The success of India's skilling system will depend on how effectively we implement these guidelines,"… Read More

NSDC and Microsoft join hands to empower 1 lakh women with Digital Skills
Aspiring to enhance skills for employability, Microsoft has now announced its collaboration with the National… Read More
TECHNOLOGY

Next steps for the government to engage with teachers from Tier-II, Tier-III cities to increase inclusivity
Amalgamation of e-learning platforms and mainstream education can then lead the nation towards… Read More

AR, VR to transform edtech
Venture capital investors are now looking to deploy capital in startups that are building businesses around immersive technologies, after ploughing close to $1.7 billion this year in edtech alone… Read More
LEARNINGS

How Covid-19 pandemic has impacted Teaching profession and is changing its dynamics
The dynamic of teaching is changing considering the current scenario but imparting knowledge is a continues… Read More

Digital divide is stark, online education still far from reality: ASER
States like Maharashtra, Gujarat, MP, and Tripura, who have reported more than 30 percentage points… Read More
GLOBAL NEWS
HIGHER EDUCATION

College Students with Learning Disabilities Are Asking For More Support. Will They Get It?
College students with learning disabilities experienced a sudden rupture of the status quo this spring when most… Read More

Can we measure global engagement in higher education?
There is so much more to global engagement than just counting how many international students a university is… Read More
K-12 EDUCATION

Report: Distance learning amplifies need for focus on student data privacy
The report recommends prioritizing privacy-focused teacher training and communicating with parents how… Read More

How deeply will digital learning transform K-12 long term?
The report is based on 2019-20 Speak Up Research Project survey data collected from 110,467 K-12 students… Read More
LEARNINGS

COVID-19 is additional layer to 'gender equality in education' challenge: UNESCO report
The UNSECO report has raised a red flag about the potential increase in early pregnancy likely to be a… Read More

Colleges Can Turn Classes into Virtual Communities. Here's How
COVID-19 has not only shaken up the way we deliver instruction, but the pandemic also threatens the bonds… Read More

Why the world must urgently strengthen learning and protect finance for education?
A "generational catastrophe". That is what UN Secretary-General António Guterres called the unprecedented… Read More
CONNECT WITH US

To stay connected with the latest in Education & Skills Sector and be a part of formulation and dialogue on the norms & policies you must connect with us on our Social Channels.
SOCIAL CONVERSATIONS

Join our
SOCIAL MEDIA
channels to
voice your opinion!
EdInsights is an IDA Initiative.
To contribute original articles, blogs, opinions, suggestions on Education and Skills,
please write to [email protected]
| | | |
| --- | --- | --- |
| 422 – 423, DLF Tower A, Jasola District Centre​, New Delhi – 110025 | +91-11-46535555 | |
© 2020. India Didactics Association. All Rights Reserved.
Disclaimer : The above material is the combination of content curated by IDA team and syndicated links. These external links are being provided for informational purposes only and lead directly to the source page. Although every effort is made to ensure the external links are accurate and up- to-date, we bear no responsibility for the maintenance and authenticity of the content of these pages or for that of subsequent links.