Mr. Sumanta Kar,
Secretary General – SOS Children's Villages of India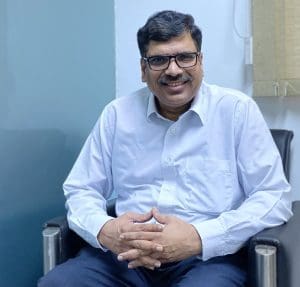 An elderly man clutches his bag close to him; it seems he carries his whole world in it. He is physically challenged and he sits on his weighing machine, his only source of income. Sipping his chai, he hears the world zoom by on a busy street. His wife is a home maker and is physically challenged too. The couple have a son, Somnath, who is currently pursuing a course in radiology. The lad's eyes betray a mix of desperation and hope. "I took up a course in radiology, as I understood that health took a whole new meaning during and after the pandemic. Besides, the need for more skilled members in the field of health was seeing a lot of demand, and this continues to be a trend. After being counselled, I opted for this course," adds Somnath, who hopes that a career in radiology will help provide his parents some respite from life's harshness.
More than 65% of India's population is below 35 years of age, which means that India's rich demographic dividend is a huge asset for the country, but with a condition attached: education and skilling of youth that prepare for life, and productive employment.
Over the period of the pandemic, that stood its ground for almost two years, unrelenting and devasting, not only were very many lives, across ages, lost, but also many livelihoods. A major chunk of the population in cities migrated back to villages, which also meant restructuring of local job markets. Loss of livelihoods in cities, due to the economic slump catalyzed by the pandemic, resulted in despair on the one hand, and re-exploration on the other. This meant retrospection and introspection for many, eventually leading to reskilling and upskilling. The latter two saw a rise as new jobs dawned.
Cut, to Sameer's home: the alleys through which Sameer guides one to his home are claustrophobic, but a stream of light at the end keeps beckoning one to move on. Sameer and his parent's home may be small in terms of dimensions, but it is full of hope – hope for a better present and a brighter future. Living each day to the fullest, and never giving up hope seem to be the mantra of this family. Sameer's father is physically challenged and works in a press; his mom explains how her son's education could only be supported till class XII, as the financial condition of the family was in dire straits. "I am currently pursuing a course in graphic designing, as the subject really interests me. It is creative and also has a lot of scope. I hope to successfully complete it, and embark on a career," says Sameer. His mom looks at her son with pride, eyes filled with hope.
Vinayak, another youth, is a picture of confidence, but his eyes mirror the challenges his journey have seen. He supports his family through a part time job that he does. With a tinge of pride, he says that three of his sisters have been married and are settled. At present, he is acquiring a skill, and handling a job. "I love computers, which is why I took up a course in computer application and website designing. There is a lot of scope in this field."
Many capable youth, who have the talent and intent, find it difficult to select a career path, which is why counselling and guidance is essential, as is the determination to work hard and succeed. Youth like Somnath, Sameer and Vinayak are the face of our country, our future. It is, hence, essential that they are equipped for a better and brighter life than what their present is offering them. Empowering them with 21st century skill sets, and securing productive employability for them is vital, so that they are self-reliant. If they are empowered, their families are empowered, and so are the communities their families are a part of.
The key to empowering youth lies in a multipronged approach: understanding capabilities, interests and talent via counselling; equipping them with necessary skill sets; and securing productive employment that serves as a springboard for a brighter future. Of course, it is easier said than done, and the journey is an uphill one, but slowly and steadily change for the better is bound to happen.