Dr. S S Mantha,
Former Chairman AICTE; Adj Prof. NIAS, Bangalore and Emeritus Prof. VJTI (AI and Robotics)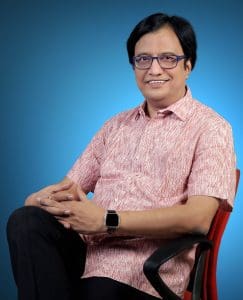 Post Pandemic, within the education space, what would change? What would bother the educator's mind? Digital transformation that was massively driven by a necessity to reach all amidst lockdowns, would continue to be there. Digital transformation is the digitalisation of the processes and products to improve the teaching and learning experience for all concerned. Additionally, all things from teaching to learning in the education space would be driven by this transformation, though traditional methods would still hold sway. Afterall, we must understand that there is no equivalent substitute for face-to-face teaching-learning.
The pandemic pushed almost everyone in schools to higher education to go online. Zoom or Skype was used extensively. Some institutions even built their own online class systems and integrated them into their websites or platforms. In a way, they customised the online learning experience according to the needs of learners or the subject of a program.
The others that would make an important mark post pandemic, would be personalised learning, professional development, hybrid learning, student agencies for services, new assessment methodologies and use of data and analytics. Emerging technologies would be the vehicles to carry them. In all matters of implementation, leadership would make a difference between success and failure. One other important marker would be healthcare. The pandemic has shown us how important it is for every one of us. This calls for wellbeing, both mental and physical being spoken about and actively engaged with, in times to come. Healthcare must become a part of education system.
For a start, business cannot be as usual, even as we discuss education. Technology is transforming all businesses globally. It has transformed education too. Adoption of technology in a variety of ways has changed the way education is delivered now. Emerging technologies, digital practices, and agile business models are serving as change agents of this transformation. If we must stay in the business of education, it is imperative that we must look to professionals who understand the nature and impact of digital transformation. Several gains accrue due to this transformation.
Cost of education is an important factor. Increased engagement is another. Digital technologies enable both students and employees to access learning resources with ease. They are also less expensive than traditional education. It enables people across the world, whatever their age be, whatever their social status be, to have access to classes and resources through the internet. There are technologies to convert text-to-speech which can even remove barriers for students with learning disabilities.
Further, digital transformation allows Interactive learning. Today, the delivery models in education need innovation. However, several innovative ways are already in use like micro lessons, videos, interactive tests, games etc. A particular example of interactive language teaching is an application created by Duolingo for learning foreign languages. More of such may be a way forward. Some institutes used digital technologies to improve face-to-face learning. They used smart classes with smart boards, computers, internet connections, projectors, etc.
Personalised learning, Customised learning are all buzz words we hear today. Many of us are privy to their usefulness during the pandemic. Adaptive learning where each learner is allowed to learn in a way appropriate to them is an innovation that has a potential to reduce dropouts. Computer technology and AI can enable adaptive learning. There have been staggering investments in EdTech companies during the pandemic which saw some novel innovations too, especially in content creation.
An educational institute or a university has several mundane day-to-day activities that take away a lot of productive time. Artificial intelligence applications can automate these simple but time-consuming tasks to ease their workload of teaching faculty. With cost of education rising, it becomes imperative to improve not only the administration performance but student performance too. Again, AI applications can help. Voice-to-text technologies can transform classes to notes helping students with hearing impairment. Similarly, Text-to-voice technologies can help students with dyslexia.
Personalised learning that involves a diverse set of technologies besides AI can be completely student centric. Blended/Hybrid and adaptive learning combine face-to-face instruction with digital learning tools and encourage students to learn by discovery. Some institutions have been successful in implementing high end Learning Management Systems for complete student analytics.
The pandemic has changed the way we live in more ways than one. Several universities even experimented with chatbots. Use of intelligent FAQ chatbots to answer questions on class work or homework, or domain specific chatbots that answer queries on college admission and also toggle as college counsellors were used. Some universities have even used process mining to help identify inefficiencies, in their back-office functions. Probably moving over to individual automation technologies like RPA can help save time of support staff. This can move them to develop lab infrastructure.
The future is in improving the experience of learning. AR/VR technologies and devices will be increasingly used. The interactive and virtual environments they create can help students better engage with the subject. They enable virtual field trips to important locations and aid in experiential learning or facilitate learning-by-doing in applied sciences and medicine. Internet of Things (IoT) is another technology which is already in use in various ways. The Smart phone we use is one such device. Increasing use of smartphones and other edge devices can improve connectivity between students and the institutions they are enrolled in. They enable real-time communication and data transfer. They can also be used to track the students' attendance in class, used as security enablers and even alert teachers and parents.
In future, even more enabled technology will be available and will be used in the class rooms. Several applications that enhance experience of teaching and learning will be used. One such application that will make a mark is the Google Expedition that currently contains 1000 VR and 100 AR tours to help teachers and students explore art galleries, museums, underwater, or outer space. In future, Google Arts & Culture will be available. Virtual labs is an area that seeks out Google expedition. An EdTech company that has a math learning platform uses artificial intelligence, that acts as a personal tutor adjusting itself continually to every student learning ability and delivers a personalised learning experience.
Digital Transformation is the future. It involves understanding the challenges of teaching and learning. It involves buying or building solutions to resolve these challenges.