Ms. Vibha Khosla, Principal – Shri Ram Global School, Delhi-West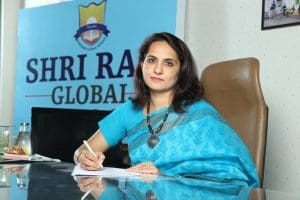 Education and literacy can be considered as the key indicators, affecting the socio-economic development of a country. The implementation of various successful schemes pertaining to education for all has been a marvellous change for the Indian subcontinent. Several policies focusing on free and compulsory education for children, such as the Right to Education policy and the Sarva Siksha Abhiyaan have brought about a well-desired change. The next step is to move from quantity to quality education, which can be aided by integrating the Sustainable Development Goals (SDGs) with the New Education Policy (NEP) that will not only examine the trends in education attainments, but also explore the various challenges of quality and accessibility in the education sector. India has been a hub of knowledge since time immemorial. From learned scholars and mathematicians to sages and gurus, our rich cultural heritage has an abundance of knowledge to imbibe.
SDGs adopted in 2015 are inclusive of many of the goals set in the year 2000, focusing on health, education, gender equality, environmental stability, etc. The agenda for 2030 adopted by various nations, throws light on education as a primary focus. Significant attention is being paid to the issues of inclusive and quality education, which is deemed as the key for social progress. It is considered to be a highly vital component for sustainable development, wherein collaborative efforts along with an ensuring expertise in diversified fields for the students is necessary. The Goal 4 of the SDGs as given by the UN focuses on free and equitable education for all at both the primary and secondary level, and appropriate care as well as pre-primary education to equip them for primary education. It also stresses upon eliminating gender disparity in terms of technical and vocational skill training for all including people with disabilities, and indigenous population. A focus can also be noted on prompting sustainable lifestyles, education about human rights and promotion of a culture of peace and non-violence. In a nutshell, focus on all levels of education- from pre-primary to university education, gender equality, and skill as well as vocational training are being stressed rather than only taking note of the enrolments in schools, and the attendance rate.
Although all of the SDGs have been key factors in India's educational policies since the 1990s, their implementation has to be more integrative in terms of helping students gain the basic knowledge of language and mathematics on one hand, and enhance their skills on the other. We as a country have already been following many of these goals, such as those pertaining to reservation to ensure equality, or education for children till 14 years of age as a Fundamental right. The Mid-Day Meal Schemes have been a step to ensure that students are not only enrolled in school, but also attend on a regular basis. So the challenge for us now is to enhance the quality of education, rather than setting new goals to achieve sustainable development. The use of technology, ensuring teacher accountability, development of a School Education Quality Index and online monitoring of many policies has helped take a step further in this direction which has resulted in narrowing of gender gaps, massive enrolments, and expansion of school infrastructure. The reduced dropout rates and improved nutrition are further indicators of successful implementation of the SDGs. However, a plethora of challenges still persist that need to be tackled. The fact that many students enrolled in senior grades are unable to read or complete mathematical tasks of primary grades is not only worrisome, but also an indicator of lack of quality in education. Teacher absenteeism and unavailability of qualified instructors are some of the reasons contributing to this situation. The introduction of a biometric system for teachers and mandatory training has shown an upward trend in the quality of education being imparted, but there is still a long way to go in order to meet the SDGs. Private coaching and the ideology to go to school for clearing exams rather than learning have largely hindered progress.
There is a need to increase the access of primary education for the marginalized sections, and strengthen management and planning in the primary education system. Moreover, including the stakeholders, namely parents, teachers, school management and local communities is important for goal setting, implementation, and attainment. Promotion of skill development through incentives involving scholarships needs to be enhanced, along with improving the basic IT competencies of the students. The impartation of knowledge through well-laid structures put forth by various educational policies needs to include skill development, and practical implications of the theoretical concepts. Many of the ongoing programs such as the Beti Bachao Beti Padhao, the Rashtriya Avishkar Abhiyan and Padhe Bharat Badhe Bharat have been successful in dealing with issues of gender equality, and promotion of quality education in the primary and secondary classes. E-resources have been made available for students via platforms such as e-Pathshala, and schools have been provided with softwares to ensure monitoring the progress of students, analysing results and so on. But a true integration of SGDs in education can come about when India not only learns from the best practices of other nations, but the best practices of various cities within its own geographical boundaries. Be it providing bicycles to students for use to reach school (Mukhyamantru Balik Cycle Yojna, Bihar), or building schools with bamboo and plywood (Chhattisgarh), or ensuring regular assessment of teaching-learning and evaluation of educational activities (Pratibha Parv, Madhya Pradesh), or peer teaching by involving the entire community (Each one, teach one, Mizoram) there are a plethora of successful practices being used in different parts of the country that need to be integrated in order to create a system which ensures that each student enrolled in an education institution is receiving quality education.
The road ahead may seem arduous, but the persistence of the government along with the efforts of the community and the stakeholders is bound to result in the successful attainment of the SDGs in the near future.