Mr. Naman Jain
Director – Silver Line Prestige School, Ghaziabad; and Education Policy and Progressive Pedagogy Expert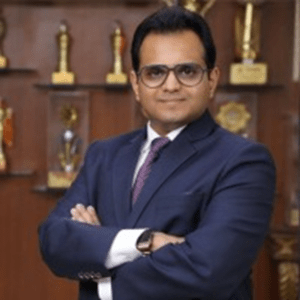 Choosing the right career can be a challenge in a world where everything is constantly evolving. A student not only needs guidance from teachers and mentors in their life, but parents as well. Parents sometimes serve as role models for their children, showing them how to balance work and family life, set goals, and pursue their own passions and interests. When choosing a career, a child needs as much support from their parents as he or she gets from teachers. Getting on the desired and right career track is one of the toughest decisions for both child and parents.
As parents, we should always avoid some of the common mistakes while helping our child choose the right career path, says Naman Jain, Director (Development) at SLPS, Ghaziabad.
PARENTAL PRESSURE
A career is an integral phase in a child's life. The child is already under the fear and stress of choosing the right career path. It is the time when they need more motivation and encouragement from their parents. Pushing your child into a particular career regime without their consent and will, can lead to resentment, frustration, and a lack of motivation.
DON'T RUSH THE DECISION-MAKING PROCESS
In today's scenario, selecting a career is a big decision and it's important not to rush the process. Encourage your child to take their time and explore all their options before making a final decision.


IGNORING THE TRENS OF EDUCATION
The educational scene in India is fast-moving on the modern progressive learning track. Technology and the internet have long made their presence felt. Students have a plethora of diversified streams to choose from. While metaverse is definitely going to bring in sweeping changes, certain courses like human resources, finance, marketing, machine learning, data science, cyber security, and UX UI etc. are expected to be in high demand.


UNREALISTIC EXPECTATIONS
Many children are burdened with unrealistic expectations of their parents. Some children may not have the necessary skills or aptitude for the course they are being trained for. These expectations result in creating pressure and a stressful situation for them.
Comparing your child's career goals with others demotivates them and makes them feel that they are not good at anything. Parents need to remember that what works out for one child may not work for the other.


CAREER COUNSELLING
A career counsellor can provide information about the educational and professional requirements for each career and can assist students in setting realistic career goals based on their skills and interests and help them create a plan to achieve those goals. Career Counselling also helps in boosting their morale and confidence to make decisions.


DON'T FORGET TO OFFER SUPPORT
Choosing a career can be a stressful and overwhelming process. It's important to offer your child support and encouragement throughout the decision-making process. Let them know that you are there for them and that you support their goals and aspirations.
SWOT ANALYSIS
Consider your child's academic abilities, personality traits, and interests when helping them choose a career. This can help narrow down options and ensure they find a career that's a good fit. Parents are often influenced by market trends rather than focusing on their child's aptitude or skills. If your child is not good at academics, it doesn't mean it is the end of the world. There are many other fields, like sports, technology, photography, event management, etc. to choose from. Analyse your child's strengths and weaknesses and then decide.


DON'T IMPOSE YOUR CAREER CHOICES
It's important to remember that your child has their own unique interests, skills, and passions. It's important not to impose your own career choices on them. Let them pursue their dream and explore options.


DON'T DISREGARD PRACTICAL CAREER CHOICES
It's important to consider practical factors such as location, lifestyle, and work-life balance when choosing a career. These factors can have a significant impact on job satisfaction and overall well-being. It's important to consider financial stability too when choosing a career, but it shouldn't be the only consideration.


YOUR CHILD'S FUTURE VS SOCIETY
"What will society think?" matters a lot for some parents. They force their children to pursue a particular stream or career that their child does not prefer at all. This pressurises them and acts as an obstruction to their success. It's better to detach yourself from societal apprehensions and let your child follow their dream.
Parents can play an important role in helping their children choose the right career path. This can be a challenging and stressful time for young minds, but with proper guidance, one can make a careful decision for his career.