By Anirudh Gupta
CEO, DCM Group of Schools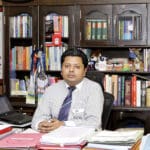 India has envisioned as being one among the world's leaders in the 21st century but the vision will take a backseat in the absence of an education system, which prepares our future citizens.
The massive gap between public and private schools in India mars the education system completely. Out of the 250 million children going to schools in India, about 40% are enrolled in private schools. This number was only 18% in the year 2001. We have come far, and facts show that Government schools are certainly not on the list of most parents, who can afford quality education for their children.
Private schools were always for the rich and the elite but due to the dwindling quality of education in public schools, people are resorting to private schools.
Despite the Government initiating schemes on education like the Sarva Shiksha Abhiyan (SSA) and then with the Right to Education Act (RTE), the quality issue has not been addressed. We have addressed the Access and Equity aspects when it comes to schools but the Quality aspect remains untouched, which is the real concern prevalent today.
It is important to provide solutions to help India achieve what it intends for education in the coming years.
Privatizing education
India faces a gigantic problem of quality in education and one way to correct it is initiating Public-Private partnership and collaborative efforts. Privatization of education is the key. Unfortunately India follows a 'not-for-profit' model when it comes to education and this is where it all begins. A regulatory mechanism to run private education at competitive prices should be India's top priority at the moment.
Accountability
When schools perform below expectations, they need to be asked for reasons and held accountable. Teachers' incentive to improve students' performance should be a fundamental duty and not a choice.
Skills-oriented approach
Education needs to be skill oriented. The problem rural India faces is a staggering student dropout rate at the secondary level. One reason for this is students belonging to lower-income group face responsibility at an early age forcing them to leave school. Subjects like nursing, hospitality etc. should be taught at +1 level rather than college level.
Preschool programs, early literacy
It is vital to invest in preschool programs where a child is prepared well to face school. It will ensure their academic success. This can also be a platform to mould their minds to see education from a different angle.
Keeping schools safe
A safe environment to study in is important. In the backdrop of recent mishaps happening in schools, parents tend to lose confidence in schools, which hampers education. It is important to reduce violence and potential risk through planning, preparation and practice.
Provide quality after-school programs
Academic excellence is not enough for today's professional world. Programs that fine tune talent should be introduced after school hours. This will nurture and enhance their personality.
Encourage innovation
The conventional mode of teaching needs a replacement with advanced and interest-oriented pedagogy. Under performing students should be given more attention through certain programs intended to target students who under perform. Students should be motivated to practice innovation.
Encourage parents to get involved
Not only students, but parents too need to be educated and made aware of the changing education scenario. Regular sessions for parents should be organized where parents-teachers interaction takes place. Parents should be motivated to be a part of various school activities apart from academics.
Education pattern needs a comprehensive revolution in order to deliver what education is intended to do. As India looks towards the 21st century, its citizens need to be prepared for challenging times and education is a weapon that can conquer all.