Mr. Mohana Krishna Vissapragada
ZPP High School, Chagallu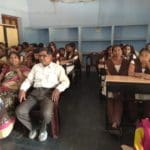 I started my journey as educator in 1989 as primary teacher and posted at PODALADA a very remote and backward village in W.G. D t, A.P. Then I transferred to Surapuarm. At the time I entered only one villager has intermediate qualification remaining are primary and upper primary only. I motivated villagers; inspire the students to set higher goals. They inspired very much now engineering and postgraduate students are there. One of my students is preparing for civil services examinations. I got very reputation from villagers they called me chinnamaster (little master) with love and affection even today. I worked as school assistant in mathematics in ZP High school, Samisrgudem , Brahmanagudem ,now working at Chagallu as first assistant. In all the villages with the cooperation of my headmaster and colleagues inspire the students to more responsible students with positive attitude. My students are working in many professional fields. I helped many poor students to continue their higher education. One of my students now working as assistant professor in Pharmacy College. I thanks Dr.Ravi kumar (homeo) for his big help in educating the poor students. Now in Chagallu high school with my colleagues under the leadership of our headmaster sri P.Anilkumar we are developing the school with the cooperation of donors in village and from NRI.We have NCC units boys and girls.Our students getting prestigious PRATHIBHA AWRDS. All the staff members are having double are more PG degrees. I have got five PG degrees. Our school is a best example for team spirit. Even though our feeding students are very poor , some of them are from broken families, little parental care we are paying our best attention in moulding them as best future citizens.