Mrs. Bhavdeep Kohli
Kohli Finishing School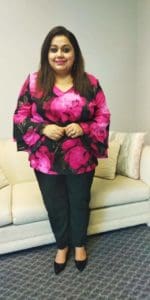 I Always dreamt to be a transformer, one who could bring a ray of hope in the lives of people. Starting my career as a college professor and teaching for 7 long years in both degree & education colleges, there was a call to give a new dimension to my life and that was what resulted in image consulting.
Hello everyone My Name is Bhavdeep Kohli, an internationally certified image consultant from the counsel of the US in image styling and wardrobe management. I am also a certified soft skills trainer from the image consulting business institute and my soft skills are accredited by SQA. Being a parent and finding how difficult parenting is I also got certified as a parenting coach. Moreover, I also have to credit train the trainer certification accredited by NABET.
With the grace of almighty, I have one of its kind in Punjab, an exclusive finishing & Grooming Academy by the name Kohli Finishing School which caters to the need of a school, Colleges, corporate, students and one on one consultations.
We help people cultivate a professional & updated appearance. I as an image consultant help my clients to make changes in their looks both inside and outside, communication skills, etiquette & behavior.
I am also a freelance trainer and I have trained more than 1000 individuals on image enhancement & soft skills. My clients range from school, college students, Teachers to corporate till Grooming individuals on various topics of image building and grooming.
Soft skills training is the need of the hour and we know how important these life skills are in everyone's life today, so I work on both, on the inside and the outside to bring a positive difference in my client's life. My clients after image enhancement feel better ,they act better and others react better to them. In short, life gets better.
We are living in a world where we are judged, every minute so Grooming, etiquette, body language, communication, presentation & personal branding holds the top position and it is where I come into the picture and help my clients in their personality development.
As a parenting coach, I counseled the parents on positive parenting. I believe that no parent is good or bad :it is only about effective & non-effective parenting. 
To cut short I create brands to bring a new you from the inside to the outside for in life the art of creating first powerful impressions are very crucial, because everything about you communicates!!!