Professor Namita Ranganathan, Department of Education, University of Delhi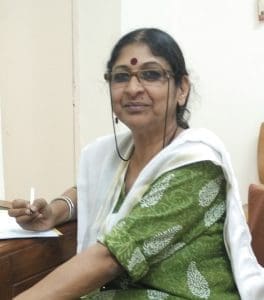 As several countries remain in a state of lockdown, there are fears, apprehensions and free floating anxiety about what the future holds. School children, their parents and guardians, teachers and educators are particularly troubled about this. Let us all try to see the situation from a more optimistic and positive lens. Let us not forget that schools may be closed but the minds of children are open. They crave for stimulation, opportunities to learn and rich and novel experiences.
The centre of learning has shifted from the school to the home, the primary natural environment in which children are born, live and grow. Let us see this as a great strength to support children's learning and development.
A child's home is not a brick and mortar structure; it is a composite of people living together as family.
This is a great opportunity for all the members of the family to bond, to spend meaningful time together, build a sense of pride in family identity, dialogue with each other, construct the history of their respective families through sharing stories from the past, look at family photographs and relive the moments of joy and happiness. Let us never forget that it is family that gives us both the roots and wings of our existence. It naturally insulates and protects us and at the same time prepares us to live in the big bad world with satisfaction and confidence.
Education we are often told aims to enable every student to acquire life skills like decision making, problem solving, empathy and concern for others, effective communication, negotiation capacity and self-confidence……all of these get naturally facilitated by the home.
We are very fortunate to be living in an era where technology is abundantly available and the wealth of e learning resources is plentiful. The platforms to communicate with students are many. Google classroom, hangout, zoom etc. can be used for regular on-line teaching and learning with older children. Many schools are following a regular time-table using these platforms for students in standards 9, 10, 11 and 12. It is almost like a home school with a regular rhythm and schedule. For those who do not have computer access at home or poor connectivity, their parents' or guardians' cellphones may be used for outreach.
What's app and sms are universally available to keep in touch. Younger children can be given tasks and worksheets that unleash their imagination and creativity. It is a great opportunity for teachers to use. Their own creativity and ideas can actually be put into practice. The role of a class teacher is to be a parent surrogate to all the students of her class. Here is the opportunity to live up to this.
Education also teaches us that every individual is unique and should be given the opportunity to experience his/her uniqueness. Being with oneself, introspection and self- exploration are some ways through which we can recognise and identify what we like and dislike, what our dreams are, what our interests are, what we enjoy doing the most, what we would like to be and make of our lives and who are the people we care for and matter to us the most.
Older children can certainly engage in this. They only require a mature parent or teacher to set the trigger. For younger children this can take the form of promoting their naturalness, curiosity and self- expression.
The importance of living in harmony with nature is probably the biggest lesson that this lockdown has taught us.
The marvels of chirping birds, butterflies, beetles, sea turtles coming to the shores, wild animals daring to walk across deserted urban streets tell us a lot about what our relationship with nature should be. In our quest for modernity we have lost touch with nature. Let us try to regain our connection. This can become an important thrust of our interaction with students.
The list is endless. There is so much to do. Let us as educators at least make a beginning.