<![endif]–>

VOL – 4 | ISSUE – 18 | NOVEMBER 2020
Celebrating Languages of The World!
Language allows us to share our ideas, thoughts and feelings with others. It has the power to build societies. Let us celebrate the various languages with IDA one-by-one.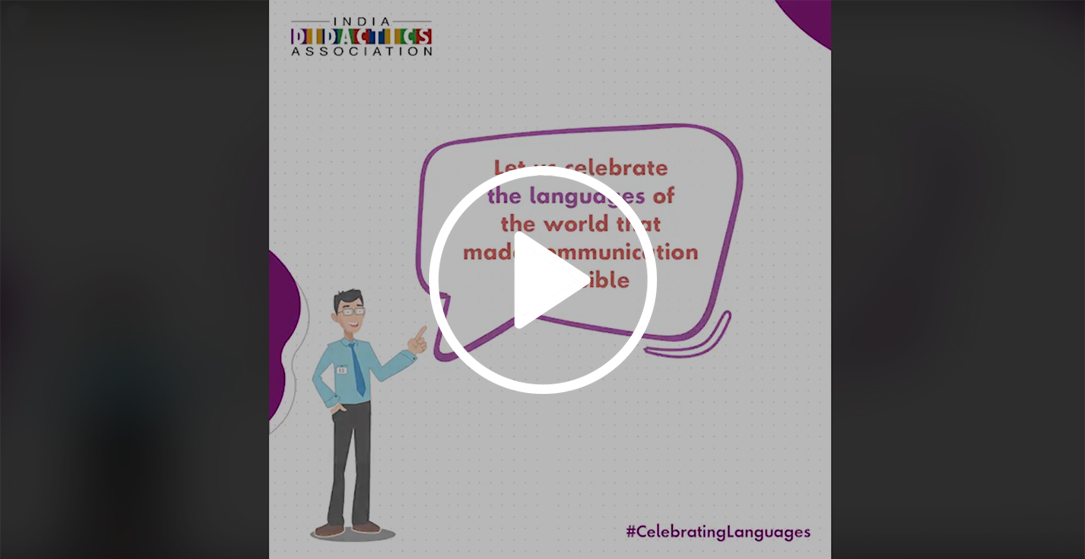 IN THE SPOTLIGHT
MAKING THE NEP VISION A REALITY

By Mr. Vardan Kabra
Co-founder & Head of School – Fountainhead School

The National Education Policy (NEP) 2020 lays out a progessive vision for education in India. Prime Minister Modi summed up the vision…
EDUCATORS' CORNER
THINK EDUCATION VIII : IMPACTFUL LEARNING

By Ms. Sasmita Samanta, Pro VC – KIIT University

Education can be described as the wise, hopeful and respectful cultivation of learning undertaken in the belief that all should…
+ READ MORE

LEARNING OUTCOMES

By Ms. Vibha Khosla, Principal – Shri Ram Global School

It is extremely crucial for a teacher to know where they would like their students to be, hence learning outcomes are very…
+ READ MORE

TECHNOLOGY IN EDUCATION

By Ms. Annabelle Villamarin, Primary School Principal – Lancers International School

Technology integration endeavours to support classrooms and has evolved human's thinking and ways of knowing for so…
+ READ MORE

STAY IN INDIA AND STUDY IN INDIA: INDIA OF THE FUTURE BECKONS YOU

By Prof. (Dr.) Anoop Swarup

Presently India is just next to China in terms of international student enrolments and mobility based on a study made…
+ READ MORE
INDUSTRY NEWS
HIGHER EDUCATION

3 University of Hyderabad Faculty in world's top 200 researchers
Based on data compiled and studied by John Loannidis of Stanford University, Elsevier and SciTech… Read More

PM Modi to IIT-Delhi graduates: Country will give you ease of doing business, you bring ease of living for poor
In his virtual address to graduating students… Read More
K-12 EDUCATION

Punjab launches mission to achieve 100 % school results
The mission is aimed at further strengthening the digital education infrastructure in schools through… Read More

For students from EWS households, taking school exam is a test in itself
While taking online internal exams, held by private schools, from home might be proving to be a test… Read More

78% parents ready to skip a school year, not willing to send kids till Covid-19 over: Survey
As per a survey on young students and their parents about the Covid-19 pandemic and its effects… Read More
SKILL DEVELOPMENT

Kerala govt. grants Rs. 20 lakh aid for education of children of prisoners
Children aged below five years, and those studying in classes 1 to 5 would get Rs 300 each per month… Read More

Prasar Bharati signs MoU with IT Ministry to launch 51 education TV channels
This move aims to bring quality educational programmes to every household, including those in rural and… Read More
TECHNOLOGY

The Future of Education: Indian Startups Chase
$10 Bn Edtech Opportunity
While edtech was already growing, Covid-19… Read More

Edtech Becomes Mainstream
Among the various sectors that have benefited from early adoption of technology in a bid to… Read More
LEARNINGS

Online learning: The role of facial, emotion recognition
Post-COVID-19, online education has become the norm. But
e-learning environments, being isolated and… Read More

Towards engaged pedagogy: It is important to safeguard linkages between formal and non-formal learning
An educator can easily gather materials that can… Read More
GLOBAL NEWS
HIGHER EDUCATION

High school SEL requires approach geared to teens' changes
While social-emotional learning lessons are commonly found in elementary school, they are less likely to be… Read More

Is the move online adding to casualization of HE work?
Scholarship on digital and platform labour in other sectors suggests that the forms of casualisation… Read More
K-12 EDUCATION

Biden is president-elect: What could it mean for K-12?
Biden's coronavirus response plan includes reopening schools and child care programs as the "the single most… Read More

Yoga, help lines, virtual social hours: Strategies to support staff through COVID-19
Distance learning is a new skill for many teachers, and it leaves many of them with all the stress of… Read More
LEARNINGS

COVID-19 Impacts On Education in Middle-East
and North Africa
UNICEF has advised ministries to produce national curriculum, complementary materials and… Read More

Universities creating tomorrow's health leaders through experiential education
More highly-qualified public health professionals will be key to us realising a healthier tomorrow… Read More
TECHNOLOGY

How building graduates' digital literacy opens up future success
The digital literacy skillset is in-demand not just… Read More

Overcoming the challenges of hybrid learning
Many teachers and students have coped by using integrated cameras and speakers found on… Read More
CONNECT WITH US

To stay connected with the latest in Education & Skills Sector and be a part of formulation and dialogue on the norms & policies you must connect with us on our Social Channels.
SOCIAL CONVERSATIONS

Join our
SOCIAL MEDIA
channels to
voice your opinion!
EdInsights is an IDA Initiative.
To contribute original articles, blogs, opinions, suggestions on Education and Skills,
please write to hina@indiadidac.org
| | | |
| --- | --- | --- |
| 422 – 423, DLF Tower A, Jasola District Centre​, New Delhi – 110025 | +91-11-46535555 | ida@indiadidac.org |
© 2020. India Didactics Association. All Rights Reserved.
Disclaimer : The above material is the combination of content curated by IDA team and syndicated links. These external links are being provided for informational purposes only and lead directly to the source page. Although every effort is made to ensure the external links are accurate and up- to-date, we bear no responsibility for the maintenance and authenticity of the content of these pages or for that of subsequent links.