VOL – 4 | ISSUE – 19 | DECEMBER 2020
Celebrating Languages of The World!
Language allows us to share our ideas, thoughts and feelings with others. It has the power to build societies. Let us celebrate the various languages with IDA one-by-one.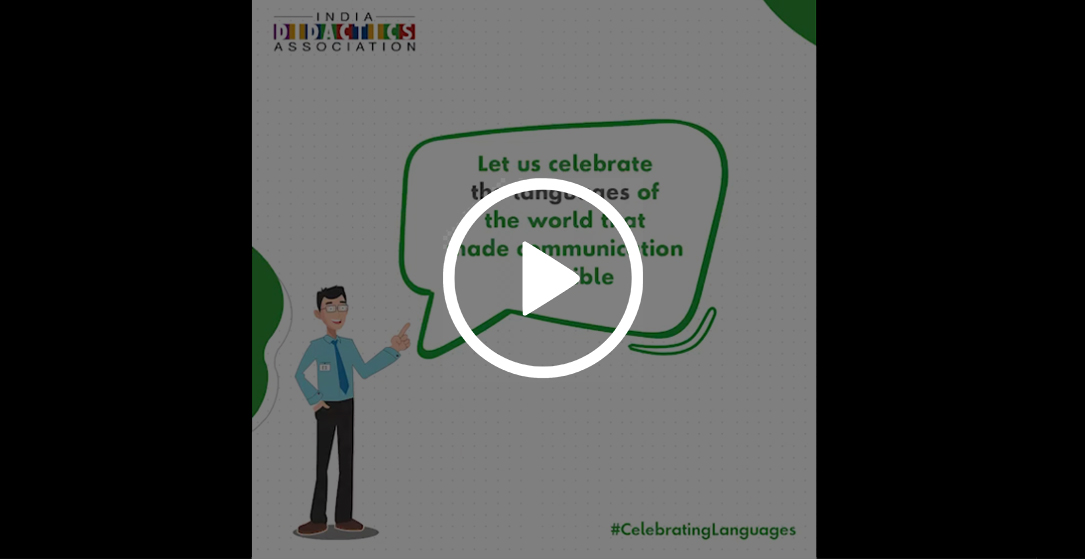 IN THE SPOTLIGHT
TRANSFORMATIONS THE SCHOOLS ARE GOING THROUGH DURING THESE TIMES

By Ms. Shilpa Kiran (Head of Cambridge – Vishwa Vidyapeeth)

It has been a transformational shift towards digitization at a rapid scale across the education sector. We have a lot to learn, evolve and create as educators…
EDUCATORS' CORNER
THE IMPACT OF NEP ON ARTS, CULTURE & LANGUAGE

By Mr. Ami Upadhyay, Vice-Chancellor – Dr. Babasaheb Ambedkar Open University

National Education Policy 2020 has created newer horizons for Language, Arts and Culture and increased the importance…
+ READ MORE

IMPLEMENTATIONS OF NATIONAL EDUCATION POLICY – 2020 – CHALLENGES

By Ms. Renu Sharma, Principal – Indirapuram Public School, Pratap Vihar, Ghaziabad

It is obvious that NEP- 2020 is derived by using very scientific methods, applying logic, data analysis and Neural Science…
+ READ MORE

ANALYZING NATIONAL EDUCATION POLICY – 2020

By Ms. Anjali Aggarwal, Principal – St. Mark's Sr. Sec. Public School

NEP 2020 aims to facilitate an inclusive, participatory and holistic approach which is certainly child friendly. Education of course…
+ READ MORE

THINK EDUCATION VIII : IMPACTFUL LEARNING

By Ms. Sasmita Samanta, Pro VC – KIIT University

The teachers build the relationship with the students, unleash the inner potentials and guide them to pursue…
+ READ MORE
INDUSTRY NEWS
HIGHER EDUCATION

Indian universities No. 15 in employability of graduates
The study by Times Higher Education (THE) and French consultancy, emerging for more employable… Read More

Skilling, reskilling and upskilling are need of the day: PM Modi at Mysore University convocation
He further said that efforts are being made at all levels to make India a global hub for higher education… Read More
K-12 EDUCATION

Delhi Govt. school's happiness curriculum gets featured on Harvard University's International Education Week
Delhi Deputy Chief Minister and Education… Read More

Delhi schools unlikely to reopen until vaccine against COVID-19 available, says Manish Sisodia
We keep getting feedback from parents that they are really concerned about whether it is safe to reopen… Read More
TRAINING & DEVELOPMENT

Skill India Commences Training of 3 Lakh Migrant Workers From 116 Districts Identified Across 6 States under Garib Kalyan Rozgar Abhiyan
Guided by Hon'ble Prime Minister's Garib Kalyan Rojgar Abhiyaan (GKRA), the Ministry of Skill… Read More

Explained: Will online classes blur the lines of quality of education between govt schools and private schools?
The transition from offline to online education has presented Indian students with multiple learning… Read More
LEARNINGS

Parent's expectations and academic pressure: A major cause of stress among students
As students spend most of their time in classrooms, teachers can play a useful role in mitigating the stress… Read More

New Education Policy meant to develop self-confidence: PM Modi
The aim of the new National Education Policy is that the youth of the country gets to know itself, PM Modi said… Read More
GLOBAL NEWS
HIGHER EDUCATION

Canada: "unacceptable" waiting times over
Covid-19 readiness plans
Many post-secondary institutions in Canada are still unable to bring international students onto campus… Read More

New international student enrolments drop by 43% in US
International student enrolments in United States universities declined by 16% in autumn 2020 and drops in new… Read More
TRAINING & DEVELOPMENT

Addressing anti-Semitism in schools: UNESCO and OSCE launch framework curricula for teacher trainers
UNESCO and the Organization for Security and… Read More

Are countries ready to build learners' resilience in times of crises?
Impacting nearly 1.6 billion learners, shutting down schools overnight and transforming public health… Read More
LEARNINGS

This World Children's Day, 'reimagine a better future', for every child
The global community is marking World Children's Day on Friday, calling for societies to "reimagine… Read More

Put digital technology to work 'for those who need it most': UN Secretary-General
While the COVID-19 pandemic has shown the importance of digital technologies and the benefits of… Read More
K-12 EDUCATION

US high school int'l student numbers drop
Almost 70,000 F-1 and J-1 visa holders enrolled at some 2,500 US high schools in fall 2019, down some 15%… Read More
CONNECT WITH US

To stay connected with the latest in Education & Skills Sector and be a part of formulation and dialogue on the norms & policies you must connect with us on our Social Channels.
SOCIAL CONVERSATIONS

Join our
SOCIAL MEDIA
channels to
voice your opinion!
EdInsights is an IDA Initiative.

To contribute original articles, blogs, opinions, suggestions on Education and Skills, please write to [email protected]
| | | |
| --- | --- | --- |
| 422 – 423, DLF Tower A, Jasola District Centre​, New Delhi – 110025 | +91-11-46535555 | |
© 2020. India Didactics Association. All Rights Reserved.
Disclaimer : The above material is the combination of content curated by IDA team and syndicated links. These external links are being provided for informational purposes only and lead directly to the source page. Although every effort is made to ensure the external links are accurate and up- to-date, we bear no responsibility for the maintenance and authenticity of the content of these pages or for that of subsequent links.