VOL – 5 | ISSUE – 2 | MARCH 2021
Celebrating Languages of The World!
Language allows us to share our ideas, thoughts and feelings with others. It has the power to build societies. Let us celebrate the various languages with IDA one-by-one.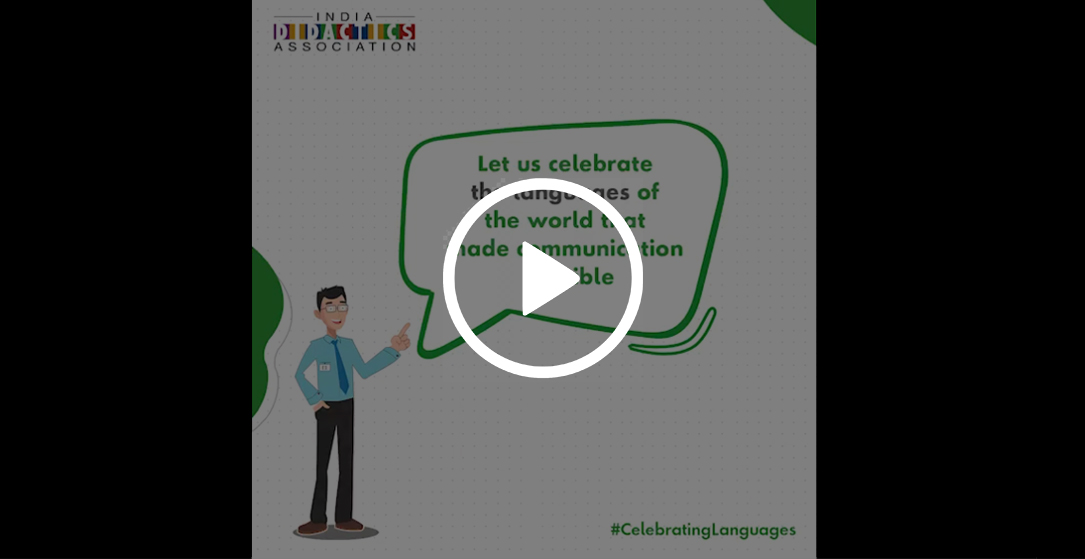 IN THE SPOTLIGHT
INDIAN TEENAGERS UNPREPARED TO FACE THE DIGITAL WORLD, FINDS RESEARCH BY AUGLI

By Ms. Anjali Tiwary (Founder & CEO, AugLi)

The importance of digital literacy cannot be understated in today's world where information is abundant and technology is ever-evolving. Among other things, it equips people with the skills required…
EDUCATORS' CORNER
EDUCATION FOR INNER HAPPINESS

By Ms. Mamta Sabharwal, Head Mistress – Darshan Academy

We all know & would agree that, Education is perhaps one of the most important ingredients to a happy, successful, and…
+ READ MORE

BLENDED LEARNING: THE NEW NORMAL

By Dr. Kirti Munjal, Principal – Tulsi College of Education for Women, Ambala (Haryana)

The teaching and learning environment is embracing a number of innovations in these unprecedented times of the global…
+ READ MORE

SOCIO-EMOTIONAL DEVELOPMENT IN COVID PERIOD FOR EARLY YEARS

By Ms. Sakina Barmal

As the COVID-19 pandemic continues to expand. only one thing is certain the current outbreak has a profound impact not…
+ READ MORE

PRACTICING GRATITUDE

By Ms. Deepshikha Dandu, Principal – Columbia Foundation Sr. Sec. School

Teaching children an attitude of gratitude requires helping them to look at situations from a point of appreciation…
+ READ MORE
INDUSTRY NEWS
HIGHER EDUCATION

Steps Taken to Provide JEE Advanced Coaching to Disadvantaged Students: Education Minister Informs Parliament
The initiatives taken by the government include… Read More

'NEP will make Indian universities global'
Many experiments with blended, virtual and digital learning that would have otherwise taken a decade to try and implement happened overnight… Read More

India plans a performance-based, tiered structure for funding universities
The NITI Aayog has been tasked to prepare a strategy paper laying the roadmap to make tertiary education… Read More

AI getting a big push to transform secondary education: Ramesh Pokhriyal
The government is mulling to give a big push to Artificial Intelligence in education sector and is… Read More
K-12 EDUCATION

Here's how personalized technology platform is changing K12 education in India
It is a well-known fact that K12 education in India is one of the largest K12 education sectors across the world… Read More

Broadening the STEM Horizons for K12 Education in India Through Mini Science Centre
Since 2011, STEM Learning, a social enterprise accredited by STEM.org – a US based international organization… Read More
TRAINING & DEVELOPMENT

PM Addresses inaugural session of Webinar on 'Harnessing Education, Research and Skill Development
The webinar was organized jointly by the… Read More

Govt proposes to amend Apprentices Act to enhance opportunities for youth
The minister further said that the department of higher education has proposed to have a modified… Read More
GLOBAL NEWS
K-12 EDUCATION

Schools for Over 168 M Children Globally Have Been Completely Shut for Almost A Year: UNICEF
UNICEF unveils 'Pandemic Classroom' at United Nations Headquarters in New York to call attention to… Read More
HIGHER EDUCATION

How Virtual Learning Is Falling Short on Preparing Students for Future Careers
Students from low-income families are likely at a special disadvantage in mastering those skills, experts and… Read More
LEARNINGS

Power and Its Effects on Educational Change: The Lead the Change Interview with Steven Courtney
Oppressive systems cannot be dismantled until they are understood. Thus, we, as educational-change… Read More

United States Invests $1.3 Trillion in Ed
In terms of overall spend, the United States tops every other country in education, investing $1.3 trillion across all levels. That's more than seven times the next… Read More
CONNECT WITH US

To stay connected with the latest in Education & Skills Sector and be a part of formulation and dialogue on the norms & policies you must connect with us on our Social Channels.
SOCIAL CONVERSATIONS

Join our
SOCIAL MEDIA
channels to
voice your opinion!
EdInsights is an IDA Initiative.

To contribute original articles, blogs, opinions, suggestions on Education and Skills, please write to hina@indiadidac.org
| | | |
| --- | --- | --- |
| 422 – 423, DLF Tower A, Jasola District Centre​, New Delhi – 110025 | +91-11-46535555 | ida@indiadidac.org |
© 2020. India Didactics Association. All Rights Reserved.
Disclaimer : The above material is the combination of content curated by IDA team and syndicated links. These external links are being provided for informational purposes only and lead directly to the source page. Although every effort is made to ensure the external links are accurate and up- to-date, we bear no responsibility for the maintenance and authenticity of the content of these pages or for that of subsequent links.