By Mr. Sameer Pitalwalla
Business Director – India/SEA – Epic Games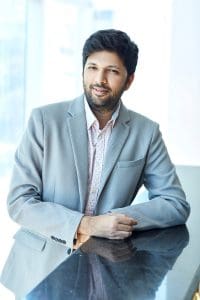 The pandemic led to the rapid transformation of a lot of industries, paving the way for escalated digitization. The education industry, traditionally a laggard in adopting new technologies, had no choice but to step into the virtual age. Traditional classroom learning went the virtual way overnight, adding millions of school students into an already crowded space that had been populated by young aspirants seeking higher learning or professional certifications.
The need for creative learning methodologies has never been felt more in India, as today, the country is home to possibly one of the world's largest student/graduate pools. Not only was the existing legacy/physical infrastructure stretched to the seams, but it was also in no way equipped to meet the additional pressure of the pandemic taking learning into the virtual domain.
Today, the Indian online learning market is poised at nearly US$2 billion with almost 10 million users and still growing. It is second only to the US, which is currently expected to be in the ballpark of US$48 billion.
The e-learning journey
As education evolved in India and found its feet in the virtual domain, educators realized that traditional learning strategies did not transfer well to e-learning. As there was no physical classroom and one-on-one interaction, it was tough to get the point across, hold student's attention as well as address any confusion or misunderstanding during the classroom session.
Further, students, no matter what the age or the course, need to be constantly stimulated. Sitting passively staring at their monitor was not a successful learning approach. Lack of attention, boredom and limited supervision were other factors impacting the learning equation. Early in 2020, many educators realized the need to design and develop new learning paths for successful e-learning.
The Unreal Engine makes it Real
As the need of the hour was to develop lessons that allowed students to actively engage with the subject, either by 'handling' different elements or working their way through a recreation, many educators realized the need for visual and experiential learning.
This is bringing to the fore new learning approaches and platforms where not only the educators but also the students can visualize and iterate on their work in 3D, making the subject that much more real and up close.
A sterling example of this approach is Marc Dubeau, a technology teacher at Osgoode Township High School in the US, who is pioneering a three-year program that helps students interact with the game, VR, and virtual production design at an early age. Today, while most kids are cycling through the standards—English, math, science—Marc's Osgoode Township High School class is learning how to apply real-time tools to games, animation, and virtual production projects, putting them in a unique position to ride the real-time wave in the near future. With the games industry taking in an estimated $179.7 billion in 2020 and VFX studios building up virtual production wings as fast as they can, real-time knowledge is becoming more than just a creative outlet; it is now a marketable skill set.
It is now believed that game engines are a direct path to that new world, as they can broaden horizons and help students make more informed decisions about where they want to go next. Unreal Engine opened a major window, helping the student and educator community apply real-time tools to games, animation, and virtual production projects.
Closer to home, in India, too teachers and administrators are realizing that gamification of learning is one way to successfully overcome the challenges to e-learning. With lesson plans built around video games, for instance, teachers can surprise and delight students by bringing something they love into the classroom. And, because students are already familiar with the digital world, they adapt quickly to the tools. They absorb information in many different ways, but the majority of the population are visual learners.
Additionally, be it a video or an experiential program, high fidelity virtual worlds that take you into immersive courses bring learning closer to home as compared to the painstakingly constructed models, storyboards, and simulations by hand, leading to deeper and more meaningful learning experiences
Transforming the Way We Learn and Work
The virtual world is native to the younger generations and they have grown up playing a number of popular games in it. As they take the next logical step from becoming players to creators, there is a whole world of opportunities out there for them. They can become leaders and innovators very quickly. The data supports this. Last year, Epic Games commissioned Burning Glass to identify the types of 3D skills needed in the workplace. The results were quite surprising – they found that jobs requiring real-time 3D skills were growing 601 percent faster than the job market overall and were likely to pay 57 percent above the average advertised salary.
The writing is on the wall, creative e-learning is not only offering more effective learning avenues to the students, but it is also setting them up for fully exploring their potential in the real world and at the same time be prepared for the new world of job and business opportunities!