Dr. Sudha Gemini,
Principal, Alok Bharti Public School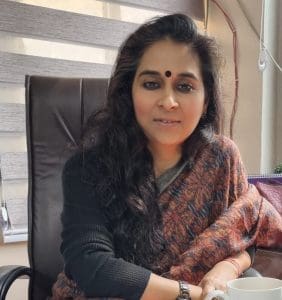 "Education is the most powerful weapon which you can use to change the world."
                                                                                                                —Nelson Mandela
In the world of transformation and advancement into newer technologies, challenges to strive for personal, social and financial independence and to work for the welfare of community can only be possible with the amalgamation of humanistic approach in education. The humanistic approach in education implies helping individual to realize the self-potential and to train one-self to work for enhancement on values of humanity. The plausible way to initiate to strive for self-understanding, self-realization, and self-efficacy to build the foundations of education by optimally utilizing human flair can be achieved by following the 3 R's i.e. Recognition, Regulation, and Resilience.
'R'- Recognition: which implies a comprehensive understanding of one's and others emotions, identifying one's potential and core character strengths, have a sense of belongingness, and acknowledging the need for practicing skills for enhancing social and emotional learning from the very beginning to promote personal, financial and social welfare. To aim for transformative, creative and innovative learning processes, it is important to recognise and realise one's capabilities, goals and attitude. One can be trained to apply learning skills for self-awareness and social-awareness. Further, if self-awareness and social-awareness abilities are incorporated in education, then it has the potential to positively ignite the minds of youth to overcome barriers of negative beliefs and attitude (such as dysfunctional cognitive, social and emotional burdens), experiment with newer thoughts, practice ethical judgment and create a meaningful life.
The second 'R'- is Regulation: which implies the need for maintaining stability and balance between one's emotions, cognitions and behaviour to understand, learn and commit for the betterment of one-self and community at large. Apart from recognising one's strengths and potential through self and social awareness, it is important that an individual also learns to manage negative emotions of unwarranted worry, fear, anger, despair, guilt, shame and generate hope for future. Emotions are powerful enough to affect's one's physical health, psychological well-being, and self-identity. Therefore, learning to regulate emotions through self and social management activities (such as workshops, events and projects for emotional regulation) particularly in education system can foster one to have a balanced personality.
Regulation aims for developing critical thinking, be goal oriented, be proactive, nurture the ability to continuously monitor one's progress and also work towards preserving human rights for all. Aiming for emotional and psychological well-being is determining factor for progressive learning, development and social interactions among others.
The third 'R'- is Resilience: This implies nurturing on one's capabilities to be persistent, thriving and surviving even in the most difficult and trying times. The construct for emotional and social learning i.e. self-awareness, self- management, social-awareness and social- management can be successfully integrated if an individual is trained to learn creative and strategic ways for being resilient. When one learns to be resilient one can truly begin to reform one-self and positively influences others to strive for values that shape and build a harmonious and sustainable community. Training students to be resilient can help them to positively adapt to difficult situations, endure positive mind-set and overcome setbacks in life. Incorporating training for being resilient in education system can help an individual to learn coping skills, learn to appreciate self for taking efforts, have self-acceptance, endure positive self-image and show optimistic attitudes for solving problems.
Training, practicing and experiencing self for grasping the concept of 3 R's i.e. Recognition, Regulation and Resilience are crucial in sustaining and enhancing overall well-being. All the three R's helps an individual to fully realize one's potential, have a sense of mastery, nurturing skills to bounce back with positivity and work with empathetic attitude towards humanity.
Incorporating the 3 R's into our education system would help to begin to train students to focus on emotional strengthening, experiencing physical and mental homeostasis, have a holistic approach towards problem solving and enduring a never give up attitude will all firmness to strive for achievements and accomplishments at personal, social and community levels. Thus, we can surely walk on the path for strengthening pillars of education and aim for progressive reformative education that result into a humane society.