A COVID – 19 INITIATIVE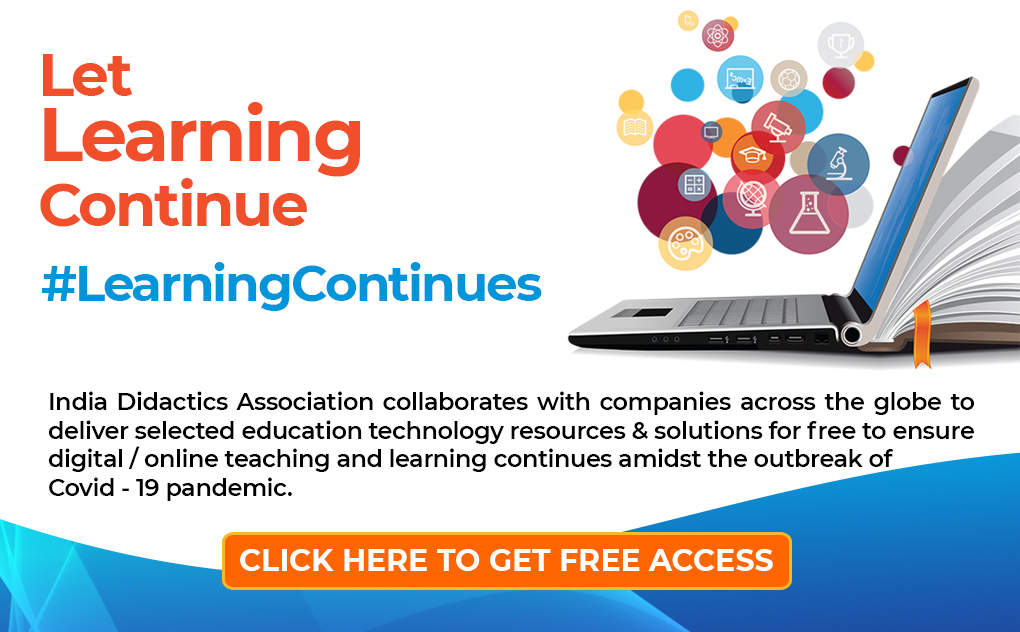 IN THE
SPOTLIGHT
Listen to eminent education leaders sharing their valuable inputs and experiences on how the education sector can cope with the changing times amidst the outbreak of #Covid-19

EDUCATORS'
CORNER
ARE WE DOING ENOUGH FOR OUR CHILDREN?

Amidst all the psychic, physical and financial trauma and turbulence so caused by the COVID 19 pandemic, as an educator I feel, there is something which we…
+ READ MORE

EDUCATION IN THE TIME OF A PANDEMIC

The Pandemic of Corona did bring things to a grinding halt all of a sudden with the PM announcing lock down to keep the citizens of the nation safe…
+ READ MORE

MENTAL HEALTH IN TIMES OF STRESS AND STRIFE

Newspaper reports point towards a variety of serious mental health concerns in school going children. These range from violence and aggression…
+ READ MORE

TAKE A STEP BACK PARENTS AND EMBRACE THE MOMENT

If your child is struggling, it's ok to feel scared and brave; determined and exhausted; concerned and proud; alone and supported; compassionate and frustrated…
+ READ MORE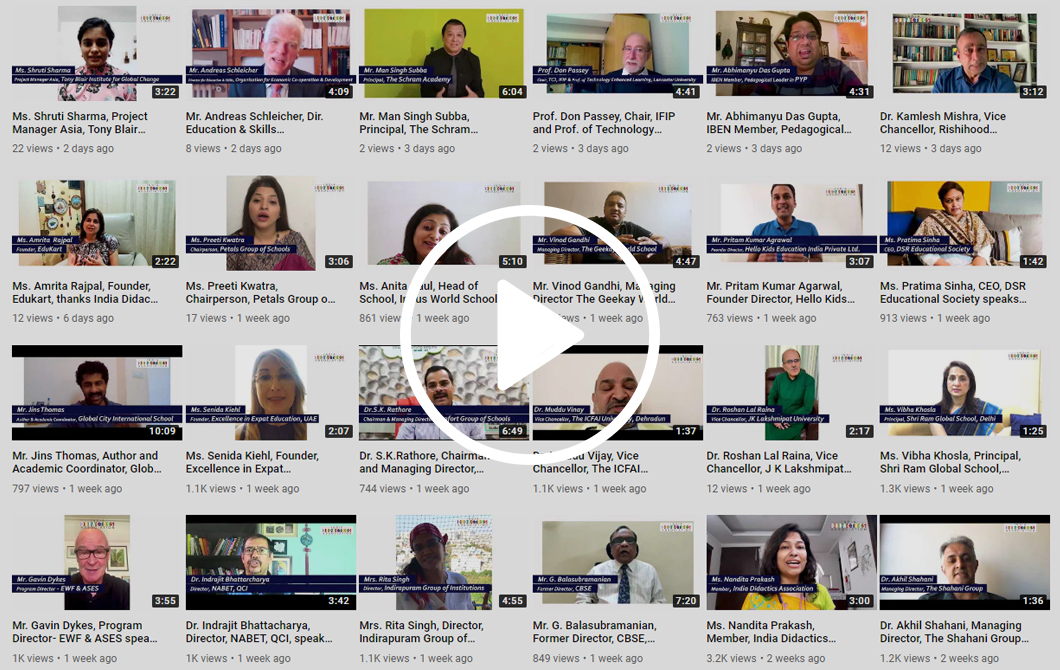 To explore and benefit from exclusive content on education and skills sector, subscribe to India Didactics Association Youtube channel.
INDUSTRY
NEWS
LEARNING

Digital Learning sees a big upsurge during COVID-19 lockdown period
As the HRD Ministry carries on with its efforts to mitigate the effects of the Covid-19…Read More

Union HRD Minister releases alternative Academic Calendar of NCERT for schools
In order to engage students meaningfully during their stay at home due to COVID-19… Read More
TECHNOLOGY
1. 26 Lakh Students Taking 574 Online Courses In SWAYAM: Education Ministry
1,902 courses are available currently in SWAYAM, the national online education platform, which have been offered to 1.56 crore students since its launch… Read More
Admissions/Examinations

IGNOU Extends Assignment Submission Date For June Term End Exam
Indira Gandhi National Open University (IGNOU) has extended the last date for submission of assignment till May 31 for those candidates… Read More

NCERT Common Entrance Exam On May 24
The application process for the CEE 2020 will end on May 4. Admit cards of all candidates who register for the exam will be released on May 12… Read More
POLICIES

AICTE gives instructions to colleges/institutions to ensure safety and academic welfare of students
Due to the outbreak of covid-19 pandemic the country is currently observing a lock down till 3rd May 2020, AICTE has issued instructions… Read More

CBSE Mulls 'Rationalising The Syllabus', Curriculum To Be Reduced
The Central Board of Secondary Education (CBSE) is considering rationalising the syllabus for classes 9 to 12 for the next academic year to make up for lost time due to the COVID-19 pandemic… Read More

Rajasthan Forms Task Force To Look Into Challenges In Higher Education
The task force would apprise the state government on how to maintain the academics of 28 lakh students enrolled in different higher educational… Read More

Children's Body Asks States To Ensure Safety Of Students In Online Classes
The apex child rights body, NCPCR, has issued an advisory to all states to take adequate precautions and security measures related… Read More
INNOVATION

Union HRD Minister Shri Ramesh Pokhriyal "Nishank" launches a web-portal YUKTI in New Delhi
It's a unique portal and dashboard to monitor and record the efforts and initiatives of MHRD… Read More

IIT(BHU)'s innovation center makes full body Sanitization Device
Shri Jeetu Shukla, an incubate of Malaviya Centre for Innovation, Incubation and Entrepreneurship (MCIIE) at IIT(BHU) has developed a device… Read More
GLOBAL
NEWS
LEARNING

UNESCO rallies international organizations, civil society and private sector partners in a broad Coalition to ensure #LearningNeverStops
We must speed up the ways we share experience, and help the most vulnerable, whether or not they have internet access…Read More

Urgent need to secure learning for children across South Asia
While most countries in the global north are continuing education at home through online learning, South Asia faces additional challenges due to limited connectivity… Read More

Digital libraries can ensure continuity as Covid-19 puts brake to academic activity
Digital libraries and publishers have risen to the occasion, offering more and more free content and curating personalized collections…Read More

Lessons learned from the massive shift to online learning due to COVID-19
Lessons learned from the massive shift to online learning due to COVID-19… Read More

Has the leap online changed higher education forever?
Online platforms threw many universities a lifeline, but the experience could well change how they and their students view the learning experience…Read More

Poorest students most at risk in US online learning 'experiment'
Continuing remote teaching in the autumn will be unsustainable for some institutions, warns leader of online college… Read More
EXAMINATIONS
China's go-ahead for entrance exam seen as sign of confidence
Other Asian nations weigh whether it is fair to test students during a time of mass disruption… Read More
TECHNOLOGY
Learning continues online: Facebook launches with UNESCO resources for educators to collaborate & continue learning process
The online resource will guide education communities on how to collaborate and continue the learning process using Facebook products, tools and program… Read More
HIGHER EDUCATION

How Higher Education Leaders Should Respond To The Coronavirus Financial Crisis
If revenues cannot continue to rise, operating costs must come down and with them the price to students and taxpayers… Read More

Crisis-driven online exam shift 'chance to boost academic integrity'
Integrity benefits of remote assessment via tech and change in attitudes outweigh the drawbacks, experts say… Read More

Is student course evaluation actually useful?
Virtually all modern university courses end with a request for feedback. But are students' reactions even useful for improving future course design… Read More

Students in England 'have fewer teaching hours than rest-of-UK peers'
But Hepi analysis also suggests there is still 'a single UK HE system'… Read More
Join our
SOCIAL
channels to
voice your opinion!
LET'S CONNECT
To stay connected with the latest in Education & Skills Sector and be a part of formulation and dialogue on the norms & policies you must connect with us on our Social Channels.
DIDAC INDIA 2020

EdInsights is an IDA Initiative.
To contribute original articles, blogs, opinions, suggestions on Education and Skills,
please write to [email protected]
| | | |
| --- | --- | --- |
| 422 – 423, DLF Tower A, Jasola District Centre​, New Delhi – 110025 | +91-11-46535555 | |
© 2020. India Didactics Association. All Rights Reserved.
Disclaimer : The above material is the combination of content curated by IDA team and syndicated links. These external links are being provided for informational purposes only and lead directly to the source page. Although every effort is made to ensure the external links are accurate and up- to-date, we bear no responsibility for the maintenance and authenticity of the content of these pages or for that of subsequent links.