VOL – 4 | ISSUE – 15 | SEPTEMBER 2020
#SalutingTeachers #OurHeroes #HappyTeachersDay
Not all heroes are in the forefront, some are behind the scenes to ensure the #LearningContinues. We offer our heartfelt gratitude to all the teachers who have crossed their comfort zones, created new boundaries and converted challenges of today, into great opportunities. We thank the Teachers for transforming education and rediscovering innovation to continue lighting the lamp of learning.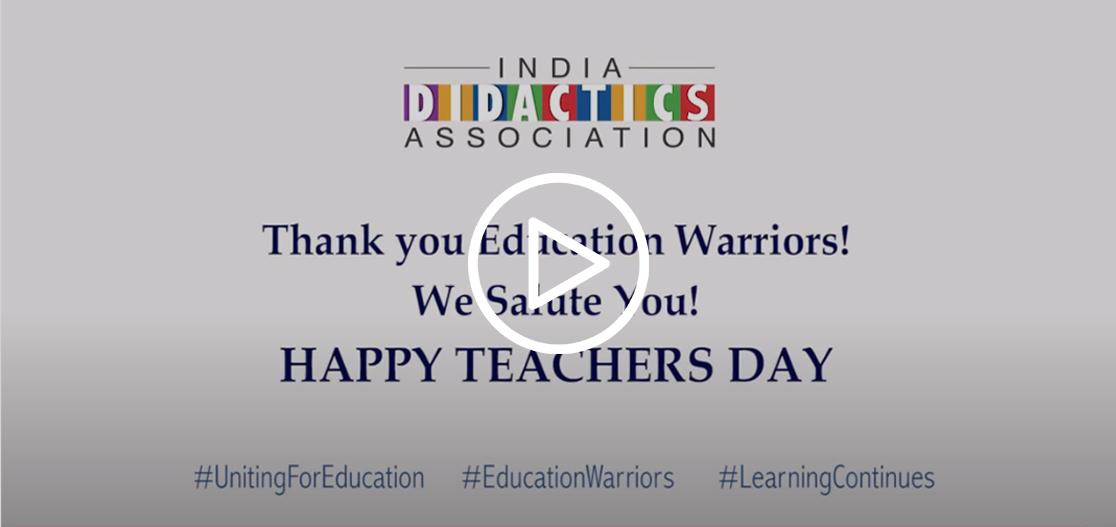 IN THE SPOTLIGHT
AI, ML, DATA SCIENCE – THE HOLY GRAIL OF HIGHER EDUCATION

By Dr. Sivaguru S. Sritharan, Vice Chancellor, Ramaiah University of Applied Sciences

These days no matter what business one is in, cannot escape from the need to make inferences from data of all kinds. This means that data analytics with varying mathematical depth arises as a key new tool in traditional engineering sciences, health sciences, social sciences, management, legal forensics, and so on
CONNECT WITH US

To stay connected with the latest in Education & Skills Sector and be a part of formulation and dialogue on the norms & policies you must connect with us on our Social Channels.
EDUCATORS' CORNER
NAVIGATING THROUGH UNCERTAINTIES WITH 3R'S OF PARENTING

By Ms. Palak Tiwari Gaiekwad, Educationalist, Director of Little Kingdom chains of schools, Jabalpur

This is an unprecedented time in the history of humans. The COVID -19 pandemic has turned the world upside down…
+ READ MORE

TRANSFORMING THE CULTURE OF
ASSESSMENT
By Meenakshi Ramesh, Director, Curriculum, Research and Development, VELS Group of Schools, Chennai, India

The online learning paradigm shift has set in a new approach to undertake teaching – learning not only with the right technology…
+ READ MORE

'WORLD IN MY CLASS!' – A TEACHER'S PERSPECTIVE

By Dr. Aparna Kakkad and Dr. Namrata Jajoo

As teachers first and then as school leaders, we are often approached by students, parents and colleagues for advice…
+ READ MORE

THEATRE AND EDUCATION- A LIFELONG LEARNING

By Ms. Pratima Sinha, CEO DSR Educational Society, Hyderabad

During my teaching career, I have always connected teaching with my passion for theatre and had seen wonderful results…
+ READ MORE
INDUSTRY NEWS
HIGHER EDUCATION

Classes for first year to start from November 1:
UGC to varsities
The UGC had first released an alternative academic calendar for higher education institutions on April 29… Read More

India not represented properly in 2021 rankings
Quality of the research base, internationalization and funding are some of the major reasons why Indian institutes… Read More
K-12 EDUCATION

9,000 CBSE students to write improvement exams to boost Class 12 marks
The compartment and improvement examinations will be the first physical examinations conducted by the board… Read More

Schools Reopen Partially for Classes 9-12 After Six Months' Gap
COVID-19 Unlock 4: Several state governments allowed the reopening of schools from today for students… Read More
Policy Advocacy
New education policy aims to achieve twin objectives of inclusion, excellence: President
Addressing the Visitors' Conference on 'Implementation of National Education Policy 2020 in Higher Education'… Read More
Technology
Rise of EdTech and Effect on Generational Learning Curve
COVID-19 has expedited the technological transformation that was scheduled to occur in our lives sooner or later… Read More
LEARNINGS

Govt run chain of Navodaya schools plans 10 inch tablet to beat digital divide for its 2.8 lakh students
Top officials in the Education ministry confirmed that the Navodaya Vidyalaya Samiti has proposed introducing a… Read More

Future through the watchful eye of Artificial Intelligence in the world of Online Remote Proctoring Exams
Remote Proctoring, an opportunity, which is now… Read More
GLOBAL NEWS
HIGHER EDUCATION

Universities prepare for semester of online and hybrid learning
As of the end of August in the US, 49% of HEIs said they planned
to do some form of hybrid or online learning… Read More

U.S News rankings reveals top US institutions for study abroad programs
The U.S. News & World Report has unveiled its 2021 Best Colleges rankings, with Princeton University maintaining… Read More
K-12 EDUCATION
How China Brought Nearly 200 Million Students Back to School
China says the reopening of classrooms proves that its top-down system is superior. To overwhelmed teachers and students… Read More
Could VR help universities teach students?
Universities are preparing to reopen but not all teaching will be in-person. The Covid-19 pandemic means that… Read More
Distance learning isn't a panacea for educating kids
The executive director of a Midwest education research organization urges caution in embracing for-profit virtual… Read More
Chef's summer camp course demonstrates how virtual classes can embrace ambition
The online summer camp Dinner Club, taught by chef Pascal Simon, is challenging young students to learn how to cook… Read More
SOCIAL CONVERSATIONS

Join our
SOCIAL MEDIA
channels to
voice your opinion!
EdInsights is an IDA Initiative.
To contribute original articles, blogs, opinions, suggestions on Education and Skills,
please write to [email protected]
| | | |
| --- | --- | --- |
| 422 – 423, DLF Tower A, Jasola District Centre​, New Delhi – 110025 | +91-11-46535555 | |
© 2020. India Didactics Association. All Rights Reserved.
Disclaimer : The above material is the combination of content curated by IDA team and syndicated links. These external links are being provided for informational purposes only and lead directly to the source page. Although every effort is made to ensure the external links are accurate and up- to-date, we bear no responsibility for the maintenance and authenticity of the content of these pages or for that of subsequent links.