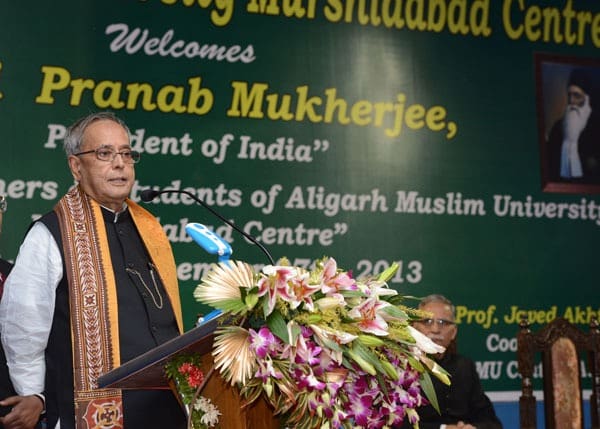 Rashtrapati Bhavan, New Delhi : 07-12-2013
The President of India, Shri Pranab Mukherjee inaugurated the B. Ed. Course of Aligarh Muslim University Murshidabad Centre today (December 7, 2013) at Jangipur.
Speaking on the occasion, the President said the AMU Centre at Murshidabad was started to carry forward the glorious legacy of Sir Syed Ahmad Khan, an icon of India's modern education and founder of the Aligarh Muslim University. Its inception represented a commitment to the nation to fight the scourge of educational backwardness and social deprivation. Since then, the Centre has fulfilled the long cherished educational aspirations of the people of the region. It has also helped in increasing the potential of the youth to enter into rewarding careers. He expressed his hope that it will contribute, in no small measure, to the attainment of the national goal of equity, access and inclusion in education.